Realty Executives International has continued to climb in the ranks of Entrepreneur Magazine's Franchise 500® List, the most comprehensive annual worldwide report that takes account of leading franchising companies poised for growth. The Scottsdale-based, international real estate franchising company came in at #166 overall and placed among the top three real estate brands included in the 2016 Franchise 500®. According to Entrepreneur, the 2016 Franchise 500® encompasses 462,585 individual businesses in 17 different categories.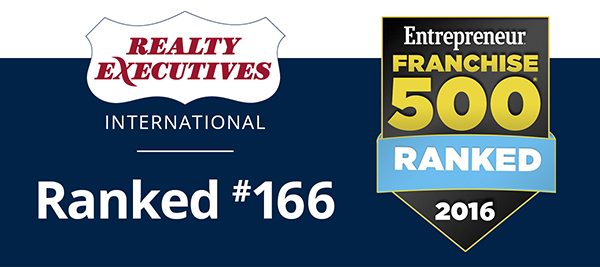 "A franchise that is run well is the key to success, and those in the ranking have a strong foundation that can survive in a changing marketplace. They can be excellent opportunities for entrepreneurial leaders ready to take on their next venture," said Amy Cosper, VP and editor in chief of Entrepreneur in a press release announcing the latest rankings.
The most significant advancements Realty Executives International has made to the business over the past year include launching a suite of proprietary technology tools with a critical focus on service and training.
"To address the needs of our real estate professionals, we developed a set of essential, proprietary digital marketing resources, including a new intranet with website services, lead management, contact management, email campaigns, email broadcasts and on-demand marketing via SMS. We will continue to build tools on a modern technology platform to meet the demands of mobile Executives and consumers.  Our new proprietary technology is faster, more reliable, mobile accessible, fully integrated and backed by top-level, in-house customer support for a seamless experience," said David Celaya, director of training at Realty Executives International.
The complete Franchise 500® report and list are compiled annually with strict consideration given to criteria that includes financial strength and stability, growth rates and size of the franchising system, company objectives and length of time franchising.   All data are analyzed by an independent CPA, and final rankings are determined via Entrepreneur's exclusive formula.
Realty Executives International boasts a 50-year legacy of innovation, a foundation that has attracted generations of the industry's leading agents. For more information, real estate professionals interested in joining Realty Executives may contact JoinUs@RealtyExecutives.com.
Please follow and like us: