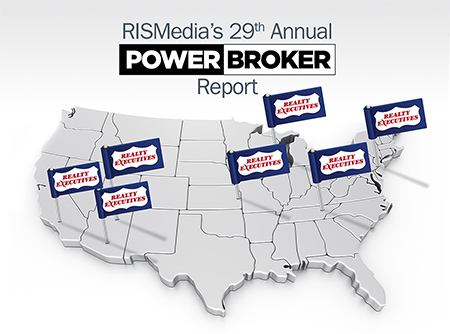 RISMedia just announced the top 1,000 Power Broker firms in the U.S., and seven Realty Executives brokerages ranked among the best of the best. RISMedia's Top 500 Power Broker Report based on 2016 sales volume was released earlier this spring in Real Estate magazine.  The Top 1,000 Power Broker report ranks firms by both 2016 transactions and sales volume.  In addition to the rankings, the report paints a clear picture of how the leading brokerages across the country are both setting and adjusting to trends, while gearing up for a low-inventory environment.
RISMedia's Power Broker Report is the longest running real estate ranking in the U.S., listing residential real estate firms by number of closed transaction sides and total closed sales volume. Realty Executives companies that earned a spot in the top 1,000 report include:
| Company | State | Sales Rank | Sales Volume | Trans. Rank | Trans. |
| --- | --- | --- | --- | --- | --- |
| Realty Executives Phoenix, Tucson and Yuma | AZ | 49 | $3,020,758,598 | 35 | 12,413 |
| Realty Executives Associates | TN | 137 | $1,518,018,012 | 73 | 7,308 |
| Realty Executives Santa Clarita | CA | 284 | $861,710,373 | 559 | 1,636 |
| Realty Executives Integrity | WI | 319 | $770,286,448 | 252 | 3,178 |
| Realty Executives of Kansas City | KS | 361 | $691,170,453 | 232 | 3,389 |
| Realty Executives Exceptional REALTORS® | NJ | 604 | $418,564,525 | 404 | 2,118 |
| Realty Executives Northern Arizona | AZ | 632 | $397,609,381 | 610 | 1,497 |
Realty Executives Rankings | Courtesy of RISMedia's 29th Annual Top 1,000 Power Broker Report
The top 1,000 brokerages included in the annual report climbed in productivity in 2016 compared to 2015, closing 3,655,765 transactions and generating $1,164,210,203,384 in sales volume. This represents a more than $38 billion increase in sales volume, with an increase in total transactions nearing 200,000.
"While the forecast for homeownership is bright, 62 percent of responding Power Brokers almost unanimously report that the inventory shortage continues to be a problem – and a big one," said John E. Featherston, RISMedia CEO and Publisher. "And with low inventory comes pent-up demand and rising prices, putting many on alert for another bubble, making it more important than ever to prepare for the future, no matter what it brings."
A longstanding leader with the Realty Executives brand, Steve Fogarty of Realty Executives Associates reported to RISMedia his strategy for keeping agents prepared for the challenges of any market.
"We've implemented many things over the past few years that have been extremely well received.  We were paperless long before the vogue of going paperless, we have a true compliance division that oversees all listings, sales and closings, we have a great marketing department, and our staff is always available to help agents," Fogarty explains.
Realty Executives Integrity in Hartland, Wisconsin made the ranking for the fifth year in a row. Throughout market fluctuations over the years and potential changes on the horizon, Dana Keegan explains how they have remained steadfast in their focus.
"As a company, we have always been people-centric. Every decision we make stems from one simple question 'will this best serve our people?' Our foundation is based off four pillars; independence, profitability, support and culture. Our vision for the future continues to be people focused, by providing an environment where our Executives can best serve their clients and build a business that reflects them," said Dana Keegan.
Congratulations to all of the Realty Executives brokerages who made RISMedia's Top 1,000 Power Broker report. We wish you continued success as you gear up for the future, preparing to guide buyers and sellers through any market. For more on the complete 2016 report, visit RISMedia.com.