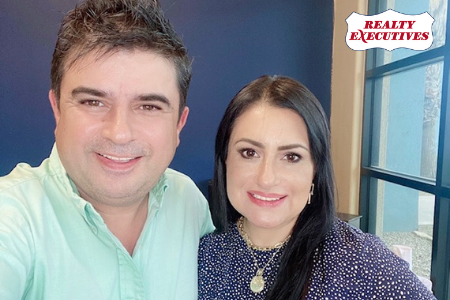 Doris and Armando Sanchez, Broker/Owners of Realty Executives of Eagle Pass and Del Rio, have announced the opening of a new brokerage in the San Antonio, Texas market.
The San Antonio brokerage, Realty Executives Nexus, will be the third brokerage the Sanchez Salinas and Associates, LLC group has opened under the Realty Executives brand. Nexus will serve the Northwest communities of San Antonio and surrounding areas. The brokerage expansion marks a success for the broker/owners and international franchisor, as they have renewed focus on growth in Texas in the year ahead.
"Doris and Armando have been excellent partners to work with throughout their career with us, and we are excited to see this new opportunity come their way." Patrick van den Bossche, President of Realty Executives International, said. "We always try to encourage our Brokers and Executives to take the next steps in their careers when possible and the Sanchez Salinas family has done that time and time again within their businesses."
Armando Jr., son of Doris and Armando, who has been a licensed agent in San Antonio since 2016 under the Realty Executives brand, will now be joining the family business, as he will be participating in the Nexus brokerage operations and working directly out of the new satellite office in San Antonio. Being Broker/Owners for over 12 years, the Sanchez Salinas Group expertise and ability to lead is promising for any agent looking to be successful in Texas real estate. The team's Eagle Pass brokerage has served the Eagle Pass community since 2008, with over 20 agents, and ranking as the No. 1 real estate company in Maverick County for several consecutive years. Looking to expand in 2017, The Sanchez Salinas opened Realty Executives Del Rio, which now has eight agents including two Broker Associates serving home buyers and sellers in Val Verde County. 
 For all real estate needs and to experience the advantages of working with an Executive, contact the Realty Executive Nexus brokerage. Assisting South Texas families with integrity, knowledge and unmatched service.
The Realty Executives Nexus office is located at 17806 IH 10, Suite 300. For more information or to see current homes for sale in San Antonio, visit www.RealtyExecutivesNexusSA.com.
Please follow and like us: