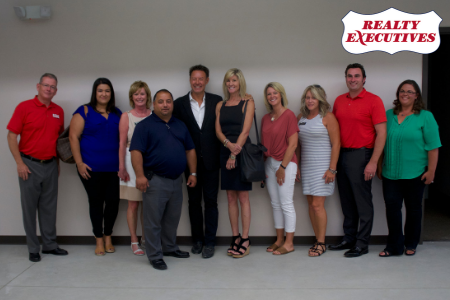 Realty Executives International is excited to announce the recent opening and growing success of the Southeastern Michigan Regional Headquarters and training facility. The headquarters, located in Shelby Township, a northern suburb of Detroit, is used for office and training space for regional real estate professionals.
The facility is named under the Realty Executives Home Towne brand, making it Home Towne's fourth location. It is a meeting and training space for eight brokerages and over 100 real estate professionals in the region, including Home Towne's own team of 82 real estate broker/owners and executives.The areas serviced by these brokerages include Metro Detroit, Macomb, Oakland, St.Clair, Sanilac and Lapeer counties.
"This building has been a big step for our expansive growth and gives us the ability to host new and continued agent training," said Frank Locricchio, Realty Executives Southeastern Michigan Regional Developer. "We plan to double our agent count and expand to 10 locations over the next 24 months. I believe our new headquarters can make that goal possible."
Locricchio opened the office space with hopes to grow and support the Southeastern Michigan franchises. With one centric location, real estate professionals can attend training seminars and network with other professionals in the field to grow their client base. By hosting business and agent training seminars, Locricchio plans to expand to 10 locations over the next two years.
Locricchio was the broker-owner of Realty Executives Home Towne before being appointed Regional Developer, will retain that position while serving the region. Home Towne recently merged with Realty Executives Associates. Associates now work under the Home Towne Brand.