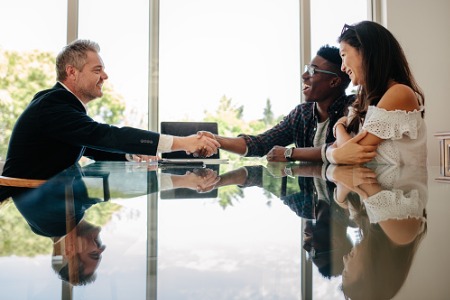 Hiring a real estate agent is one of the smartest decisions you can make when you're looking to buy or sell a home. But not all real estate agents are the same, and not every agent has your best interest in mind.
As a reminder, you should always interview multiple real estate agents when you are looking to hire someone to help with your buying or selling process. Don't go with the first person you find or someone who seems convenient to hire. Chat with multiple agents to get a feel for their differences and hire the person who is right for you. Here are some of the best tips for what to look for in a real estate agent and how to find the perfect agent for you.
A true passion for real estate
The agent you hire should be someone who is truly passionate about their job as a real estate agent. This is something that will be easy to tell in your first conversation with the prospective agent. If they only consider real estate to be their side gig or they seem generally apathetic about the work, they probably aren't the person you want to work with. But if they are excited to begin working with you, take their job seriously, and overall seem passionate about the work they do, they are likely the type of person you'll want to hire.
Knowledge of your neighborhood
When hiring an agent, it's important to find someone with knowledge of your neighborhood. If you're looking to sell your home, hire a real estate agent who knows the ins and outs of the housing market in the specific location where your home is located. If you're in the market to buy, find an agent who knows the area you are looking to buy in very well. The more knowledgeable the agent is of your specific neighborhood, the more likely they will be able to get the job done.
Experience working with buyers in your price range
It's also a good idea to find a real estate agent who has experience working with buyers in your price range. If you're looking to buy a home within a lower or higher price range than your real estate agent is used to, this could create problems down the road. You'll want to ensure that you and your agent are on the same page in terms of the price range you are looking for, and having an agent with experience working with buyers and sellers in your range will make the process that much easier.
A good track record
Additionally, just as you should find an agent who works with buyers in your price range, you should also find an agent with a good track record. Don't be afraid to ask for an agent's references when you're figuring out whether or not you want to work together. It isn't always necessary to find the agent with the most experience, but an agent with a good track record with their clients is definitely a plus.
Great chemistry
Finally, perhaps one of the most important qualities to look for in a real estate agent is great chemistry. You and your agent should have great chemistry when working together, as this will make the buying or selling process more enjoyable no matter how long it takes. Chat with the agent about your communication preferences and make sure you find someone with a personality and work ethic you enjoy. You and your agent will work closely together as they try to achieve your home buying or selling goals, so it's important that you have great chemistry.
This post is intended for informational purposes only and should not be taken as professional advice. The point of view and opinions expressed in this post are those of the author and do not necessarily reflect the position of Realty Executives International. This post was written by Bailee Abell. Bailee Abell is a writer born and raised in California. A graduate of University of California, Santa Barbara, she loves reading classic literature, sipping warm beverages, and visiting theme parks every chance she gets. Find her at baileeabell.com