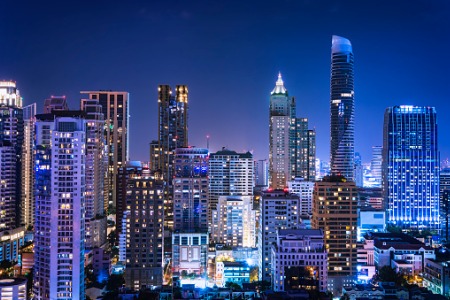 City-living comes with its many benefits, and is growing exponentially in popularity. In 2016, it was revealed that over 23 percent of the world's population lived in cities with over one million inhabitants, and that number is expected to grow to a large majority (in urban areas) by 2050.
Living in an urban environment does, for many, come at somewhat of a cost, as you can be restricted in the amount of personal space city homes offer or loss of green space. But fear not, as there is plenty to do when within an arm's reach of the bustling city center.
For the urban socialite looking for things to do in the big city, here are six things usually within walking distance of the average city-center apartment.
Gym
The gym is a staple and necessity for many, and cities typically have a vast number of offerings to choose from. Those wanting to exercise before or after work will find living a stones' throw away from a gym a blessing, and it should also help with motivation if trying to muster up the effort to go. Let's be honest, when you can practically see the gym from the window of your apartment building, you've got no excuse.
With some luxury apartment buildings, tenants won't even need to leave their homes to work out. For examples, RW Invest, a UK property investment company with apartments and developments in thriving areas such as Liverpool and Manchester, feature such amenities.
Swimming Pool
Fancy a dip in the pool? As an extension of the gym, mentioned above, most cities have swimming facilities available for those wanting to practice their breaststroke or front crawl. Living minutes away from the facility also gives you the added benefit of being able to avoid peak times when it can become overcrowded and uncomfortable. Many big cities will offer rooftop pools for those wanting luxury but there are also plenty affordable options usually sponsored by the city's park and recreation departments.
Cinema
For those wanting a more interactive experience, for example in London, Secret Cinema can take the immersion one step further. Referred to as "The top dog of London's alternative night out scene" by the Radio Times, the Secret Cinema takes a particular film (this time around for example it's Casino Royale) and establishes that world around the performance, with interactive elements, surprises and secrets in store for ticket buyers as a supplement alongside the motion picture feature. Another example would be the dinner theaters in Phoenix, Arizona or Los Angeles. These provide a great date night or easy going night with friends while watching the newest films.
Shopping
While perhaps not the most exciting notion on the list, being nearby an abundance of supermarkets and express food markets is extremely handy, as you will never go without the essentials you need to keep you going each week. Fancy a spot of retail therapy? Well, you're in luck, in a city you're never too far away from a retail hub filled with plenty of places to spend your hard-earned money on the latest trends and fashion.
Gardens
Need to get away from it all and experience some greenery, rather than the same concrete jungle day in and day out? Most big cities have public parks and gardens, which are perfect in the summer months for exercising, relaxing, or meeting up with friends. Dog owners can often find it hard to navigate pet-friendly areas of the city, and so a safe area without the risk of traffic is a godsend.
Nightlife
New York isn't the only "city that never sleeps", as most cities around the world will stay lit by the abundance of bars and restaurants into the early hours of the morning. Nights out in the city can make for some of the most energetic and exciting social activities possible, and being on your doorstep you don't have to worry about how you're going to navigate predatory taxi charges in order to get home.