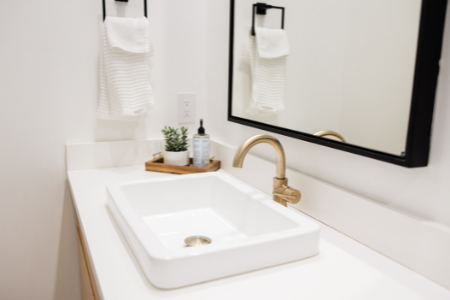 When you want to upgrade your home, one room to look towards is the bathroom. So many people start and end their day showering, brushing their teeth, and more, so it makes sense that you should give your bathroom a makeover.
When you can't afford to install a new bath or shower, what are some ways you can give your bathroom an upgrade that won't break the bank? Here are several.
Inexpensive Ways to Make Your Bathroom Look Larger
If you have a smaller bathroom, there are several ways you can give it the illusion of size. There are several ways you can accomplish this.
Get a Large Mirror
If your bathroom mirror is on the smaller side, buying a larger one should not cost much money. A large mirror can make the bathroom feel much roomier. When someone enters, the person may believe they're in a larger room until they recognize it's a mirror. Not only that, but if the mirror comes with a medicine cabinet, you can store more of your belongings in it.
Try a Fresh Coat of White Paint
Another inexpensive way to make your bathroom larger is to give it a coat of white paint. White paint makes your room feel more extensive, and you should be painting your bathroom regularly to remove any grime from it. Also, be sure to use mildew-resistant paint.
You can use paint to create patterns and other designs to give it a regal look for less money. Never count out the power of color theory.
Add Wall Shelves
Adding some wall shelves above your toilet allows for some clever storage, letting you put decorations or extra toiletries in a convenient location. By having less clutter around your bathroom, you can give it the illusion of being larger than it is. Wall shelves tend to be inexpensive and easy to install, and many of them have a gorgeous finish that can make your bathroom look more high-end.
Install a New Shower Head and Sink Faucet
Another inexpensive idea to upgrade your bathroom is to buy a new shower head or sink faucet. For example, if you have a shower head that's aging and lacks features, you can buy one with many bells and whistles for a fair price. The same principle applies to a sink faucet.
Both are simple to install as well, requiring no professional help. With a shower head, you simply twist the old one off and add a new one. It's a great way to upgrade your shower or sink without replacing it altogether.
Refinish Your Bathtub
Does your bathtub have stains, small cracks, or other imperfections? You might consider replacing it, but if you're on a budget, ask yourself: does the bathtub still work fine? It might be time to retire it if you have a leaking, moldy, or heavily damaged bathtub. However, if your bathtub is fine otherwise, consider refinishing it.
Refinishing the bathtub only costs a few hundred dollars, and it can make your bathtub look good as new. It can remove imperfections and give you a fresh feeling every time you take a bath.
Again, if your bathtub is damaged beyond repair, refinishing it will be pointless. However, if it's still working, give it a try before you consider replacing it.
Research Affordable Materials
When you're renovating your bathroom, there is an urge to use more expensive materials. However, there are times when more affordable materials can suffice.
For example, if you're renovating walls, save tiles for the shower and tub areas only. It's far less expensive to use drywall in dry areas, reserving the more expensive tile work for areas that will see water.
As for your flooring, there is a wide range of materials to choose from. For example, if you wish to install laminate, it's the cheapest option.  Generally, stone is the most expensive option, but there are synthetic floors that can fall in the mid-range.  Pick an option that makes sense for the space and your pocketbook.
Additionally, if you want stone flooring or countertops on a budget, consider asking a supplier if they have any remaining pieces from a previous gig. This can be a great option for small spaces.  Sometimes you can also buy it used. The cost of granite, marble, and manufactured stone can vary greatly, so research different grades of stone to see what makes sense for your home.
Mix and Match
With inexpensive materials versus expensive ones, you should consider mixing and matching. For example, if you want some luxury in your bathroom, aim towards one section, such as the countertop, and spend less on other parts. Then, when it's time to renovate your bathroom again, you can upgrade something else entirely.
But, with that said, maintain a balance between affordability and quality. You don't want to buy cheap materials that will deteriorate rapidly. Replacing them costs money and time, which add up quickly. Affordable doesn't have to mean low quality!
Buy It Used or On Sale
We previously mentioned the option to buy used materials. Your local consignment store may offer items such as vanities and mirrors, which can be fabulous additions to the bathroom.
Of course, you should be cautious when buying anything used. Be sure it's in good condition and the seller has a stellar reputation. You should have the option for a refund if the item doesn't fit, isn't in working condition, etc.
If you decide to buy your goods new, look for sales. You can look for deals on holidays, even Black Friday. If you don't want to wait until then, follow your local businesses online and on social media to see if any sales are coming up. Signing up for an email alerts can help you score the latest deals or clearance specials.
Conclusion
It is possible to give your bathroom a magical renovation without spending much money. Through some budgeting, clever tricks, and figuring out what is the biggest priority, you can save some money while adding to the value of your home. Good luck with your bathroom renovations!