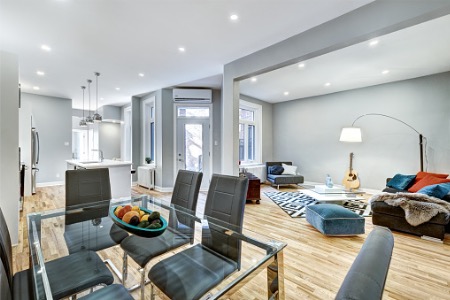 Home staging is the revamping, repairing and redecorating of a property to make it as attractive to prospective buyers as possible. The idea behind it is to showcase a property at its best and to help viewers see past it being someone else's home and rather envision it as their own!
The novel coronavirus pandemic has made searching online and virtual tours a necessity. Real estate has embraced this virtual world, so if you're using home staging to sell homes, you may need to change your tactics to suit the digital market. Take a look at our ideas for making your listings more attractive to buyers:
Basic Home Staging Advice
A lot of home staging advice applies to in-person and online situations. Here's what to do before you open up your house and showcase it to any interested parties or prospective purchasers.
· Get Cleaning: The cardinal rule before you show any space that you want to sell is to get it as spotless as possible. All surfaces need to gleam!
· Declutter and Depersonalize: You're selling the space and not the stuff inside it. The home needs to be a blank canvas where a lead can imagine themselves living in it.
· Hire Professionals: Home staging is a fully-fledged profession, so if you feel out of your depth consider calling in an expert. You should also seriously consider investing in professional photographs to show your property at its best. Your real estate agent will most likely provide this service as well as video.
· Make Necessary Repairs and Style Updates: Outdated or cheap furnishings can lower the tone and make people a lot less inclined to make an offer on your house. You may also need to move pieces around so that a room is balanced or looks larger.
If your color scheme is very unique, consider repainting to make an area look fresh and more neutral. Bright shades can be fantastic, but they personalize a space in a way that you're trying to avoid now. Lastly, make any repairs (such as plastering cracks) that are necessary.
Home Staging Aimed at Virtual Buyers
Many home buyers don't feel comfortable visiting a home and experiencing it for themselves at the moment, so it all comes down to the visual experience you provide through digital platforms. When you're home staging virtually that means you don't need to worry about sounds in the neighborhood, or about airing out the space to get rid of smells.
Another plus is that you could post all still photos and move things in and out of rooms to set the perfect scene. Or, you could post a walk-through video and emphasize that you haven't had to stash furniture in other rooms because the space works so well.
Capture the Online Market's Attention
Prospective buyers who see the images of your property don't get to take a tour in the same way they do when visiting in person. Instead, they're browsing through picture after picture, and they might even be doing other tasks at the same time.
In short, online buyers' attention spans are a lot more limited. You need to make sure that your home stands out. Dramatic photographs are the first part of that – the thumbnail that they see should be really eye-catching, with a central focus point. The outside of a home, framed by plants or with the sunset in the background, is a great option.
A picture is worth a thousand words, but when people are online they usually flip through images quickly, bookmark the ones they like, and then come back to those. Your agent will be in charge of providing written details about each photo.
Think About How Visuals Come Across on Screens
The proportions of the image on a screen – whether it's desktop-, tablet- or smartphone- sized – are likely to be quite different from what would be seen in real life. Since there's just one view at a time, you need to declutter it.
Select just one point of focus for each picture. Whether it's a feature wall, chandelier or well-appointed window, ensure that it takes center stage. You should also think carefully about the colors you use. Once again, your agent will help you set up professional photography if you would like so that you don't have to worry about finding the right angle yourself.
Consider Virtual Reality
Technology is fast becoming a Realtor's best friend, and there are several digital tools that can help you and your estate agent to make sure the right buyers see your house. Virtual reality allows you to take people on a 3D tour of your property, and you could create similar showings with virtual staging.
Virtual home staging refers to using software to edit photographs so that the house appeals to prospective homeowners more – it's staging in a virtual world. Depending on the service or app that you purchase, you'll have Do-It-Yourself controls or will be handing everything over to an expert.
Each virtual home staging product's functions differ slightly, but generally it is possible to delete unwanted furniture from pictures. The pieces are rearranged or replaced with virtual furnishings from a stock of designs. In some instances, you can even create a 3D tour of your virtually staged space.
Decide whether you want your virtual home staging to be professionally done, or if you'd like to do it yourself. Then look over the various apps and software that are available and choose which of them you would like to try out. This is a very powerful tool and can bring your home to vivid life online.
Closing Thoughts
The more you put into your home staging efforts, the more you'll get out. Having said that, set yourself a realistic budget before you begin. You want the house to look appealing, but you're not trying to remodel it into your dream home – you're setting the stage so someone else can do that.