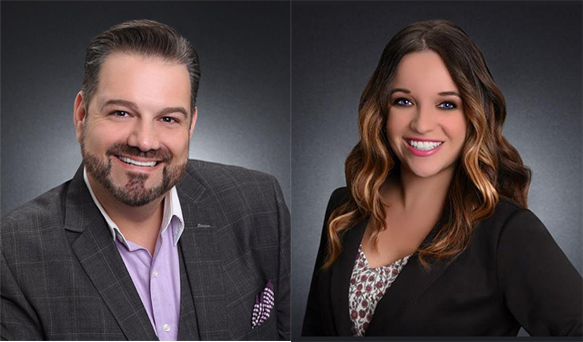 ORLANDO- The team at Realty Executives  Gallery Properties are taking full advantage of the CME (Certified Marketing Executive) training, and it's helping them grow their agent count.
Broker/owner Christopher Nutt, and in-house Certified Marketing Executive Meghan Benham, have gone the extra mile by providing additional training for the agents of Gallery Properties in excess to the training webinars offered by Realty Executives International. 
"Now that I've been in it for a little over a year, I can see the value of CME training," Nutt said. "The more we talk about the products and how to use them, the more our agents get excited to use them. I think the offices that have a dedicated CME trainer, it's even better because although there are webinars all year, to have someone at the local level who can do it, it's just another resource our agents can use."
For a support staff member or broker to reach CME status, they must complete a four-week training course to successfully implement, and train others on, Realty Executives International tools such as office and agent management, marketing, lead generation, recruiting and retention. Each week includes a 1-2 hour recorded video session and will involve an additional hands-on coursework during the week.
Nutt said with the excitement of learning about new tools, his agents often go into the marketplace and speak about the great technology that is accessible through PrimeAgent. He believes the technology can be used as an excellent recruiting tool, especially if it is paired with a CME trainer with the office.
"The tools and platforms that Realty Executives offers, including the CME training, has helped with our agent growth and population because all of the tools are so seamless," he said. "It's one platform that does many things. By having a CME trainer that can help train ouragents on that, it really helps take the burden off of them to learn this individually. This also helps build office comradery."
Since opening his office about a year ago, and beginning CME training, Nutt's agent roster count has grown by twelve, with the projection of several additions in the coming months.
"I think all of this really plays into our company culture, as well," Nutt said. "We're a very forward technology-based company to begin with and you know that coming in. That's what drives new agents to us because they know of all these tools we offer."

Despite learning about a wide-range of new technology, Benham said the agents she teaches about the marketing tools are fully engaged in the program.

"A lot of agents aren't technology savvy," Benham said. "PrimeAgent is a very easy platform to use. If an agent asks what tab something is under, I can tell them and they'll find it right away.  
"I would say the agents are more excited than hesitant to learn about new technology because they know it's going to help their business grow."
Benham said the agents are particularly attracted to the texts on demand feature in addition to web page creation.
While some brands have similar tools to the ones provided through PrimeAgent, they do not fully compare to the potential of Realty Executives tools especially with the ability to have CME trainers in each office.

"The advantage and the big difference for Realty Executives compared to other brands is PrimeAgent because every tool you need is on one platform," Nutt said. "With other brands you may see similar tools but on various platforms."

The CME certification course goes live once a year, however, support staff and brokers have the option to open the training center in PrimeAgent and complete the course year round.