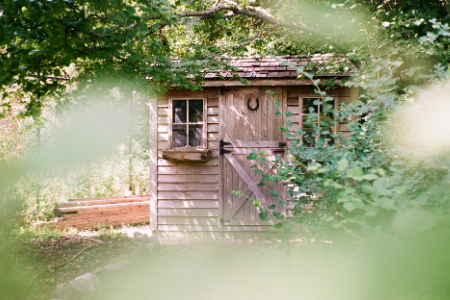 Springtime is here, meaning more time spent outdoors and perfect weather for renovating or enhancing your backyard. During the last few years, homeowners have been getting creative, finding more ways to make their own personal oasis just right out their back door. One of these creative improvements is the "she" shed, a classic tools shed that is transformed into the homeowners own personalized shed meant for relaxation, girls night in or a space for hobbies and favorite activities. Let's take a look at some tips for making the perfect "she" shed!
Renovating or Building
The first and most important decision you will have to make when making your shed is if you have a current building in place that can be renovated or if you will need to either order a shed "kit" that includes all the materials needed or hire a local builder. Each option will vary in effort and in price. Hiring a builder will most likely be the most spendy, but allows for customization at every part of the process. As for kits, there are lots of different sites that offer them but we recommend reading reviews before purchasing. Lastly, if you already have a shed you can save a lot of money by renovating it yourself! Putting in new flooring, purchasing new windows and a fresh coat of paint will have your shed looking brand new in no time.
Find its Purpose
Everyone's she shed has its own purpose. Some homeowners like to use it as a space to relax after a long day's work, away from the hustle and bustle of family matters. Others may use it as a paint studio to practice their art or a gardening house to practice their green thumb. Whatever the purpose of your shed is, make sure it fits either a passion of yours or fulfills a need.
Make it Thrifty
Because this space is meant just for you or few friends, there's no reason to spend tons of money on new furniture and accessories. Try going to your local favorite thrift store or antique shop to find unique items for less. These stores will offer knick knacks, furniture and more in all types of styles. Plus a lot of items can be bought and redone to fit your style with paint or new fabric. Another great reason to make your shed thrifty? It's sustainable! You'll feel great knowing that your shed isn't hurting the environment that you've built it around.
It's About You!
Just how each she shed has its own purpose, each one should have its own interior and exterior. This space is about you and only you. It's a space that allows you to not have to worry all about functionality and instead about fun. Pick your favorite color for the outside and fill the inside with things that fit your purpose and your personality. Do you like modern or traditional styles? Luxury chandeliers or simple reading lamps? Each decision made should be faced with what makes you happy or helps you fulfill the shed's purpose while there. If you're stuck for inspiration, Pinterest is a great resource with ideas for every style.
Enjoy this spring and enhance your backyard with this incredible space that allows you to step out your door and into comfort. Invite your closest friends over and be the hostess with the best pad or just enjoy some peace and quiet, either way make this she shed one of your favorite parts of home.