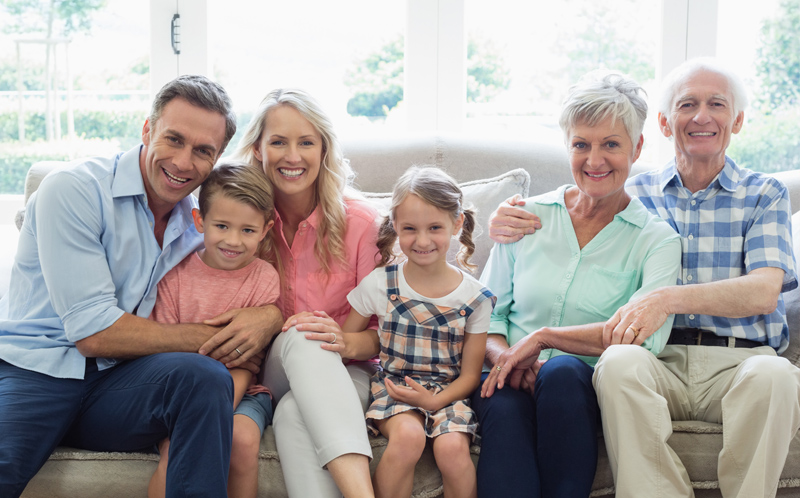 According to Forbes, multi-generational living is on the rise and an estimated 60.6 million Americans are currently living in a multi-generational household. In Canada, recent census studies show households of three or more generations all living under one roof represent the fastest-growing household type. There are many economical and familial advantages to multi-generational living. It is important, however, to find a home that is well-suited for every member of the household. Keep these important considerations in mind when buying a multi-generational home.
Organizing Everyone's Wants and Needs
It can be hard enough for couples to agree on their top priorities when shopping for a home. Shopping for a multi-generational home can prove to be even more difficult, because you have to take multiple families' wants and needs into account. This is a process of negotiation and compromise. Start the discussion in a neutral location, where everyone feels like they have a say, regardless of age or position in the family.
Make a list of the most important features and then create a separate list of 'want' items that are not necessarily a requirement. Compile these needs into a single list and establish how many bedrooms, bathrooms, and living spaces are required for your multi-generational home. This will make the home shopping process easier and will help you communicate exactly what you are looking for to your real estate agent.
Multi-Generational Layout
Living in a multi-generational household often means you will spend a lot of time with your family members. But, there will be times when you will desire privacy. Make sure you choose a layout that gives family member's sufficient individual space.
For many, the ideal multi-generational house includes different living quarters and more than one family space. A large enough kitchen to hold every family's groceries is also a great addition. You will also want to consider the parking situation. When you have multiple families living under one roof, it is also likely that you will have numerous vehicles. Make sure you have a large enough driveway or enough garage parking spaces that allow for easy entrance and exit.
Unique Financing
Talk to your real estate and mortgage professionals to discuss your multi-generational home financing options. Typically, there is one primary mortgagor and additional adult's incomes, credit histories, and assets will be factored under that mortgage. Fortunately, there are programs such as the Fannie Mae HomeReady program that allow additional adults to submit their household income, without officially being on the mortgage.
Insurance
While insurance policies vary from state to state, it is important to consider your home insurance needs for a multi-generational house. In most cases, families' relative's belongings are covered under another family member's home insurance policy.  But, the coverage policy can get tricky if anyone living in the household is not legally a family member. The standard liability coverage also might not be sufficient to handle a multi-generational claim. Always be clear with the insurance provider about your living situation to ensure you have proper homeowner coverage.
Keep Resale Value in Mind
You want to keep resale value in mind when purchasing any type of real estate. Fortunately, there is a high demand for multi-generational homes and with baby boomers reaching retirement age over the next decade, this demand is likely to stay consistent. The common layout of multi-generational homes has many functionality purposes which also gives them a higher resale value. A few of the most popular designs include open access rooms, suite additions, and private family spaces.
Decades ago, it was the norm for families to live together. Today, that trend is making a comeback and multi-generational households are on the rise. Keep these considerations in mind as you search for your family's multi-generational home.
This post is intended for informational purposes only and should not be taken as professional advice. The point of view and opinions expressed in this post are those of the author and do not necessarily reflect the position of Realty Executives International.
This post was written for Realty Executives by Heather Hardy. Heather is an avid writer who has contributed to numerous blogs and internet news sources.  While she writes on a variety of topics, her specialties include real estate, home improvement, and travel. After obtaining two degrees, Heather has found her passion in writing content that improves both readability and knowledge.