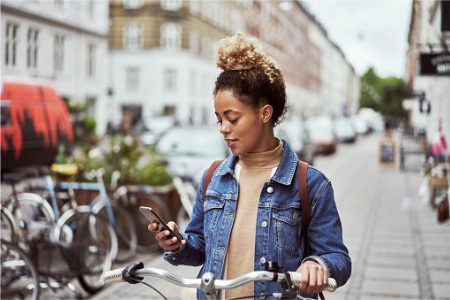 Navigating a new city is hard. Moving is one of the most stressful things a person will do in their life. Luckily, our phones make the transition a little easier by having a plethora of apps to download in order to thrive in your new home.
Apps to meet new people
We are social animals. We need people – simple as that. Making friends in your new city will be one of the first things you'll want to do, and these apps make it so easy to connect with new people!
Meetup
Don't just stay at home every night binging your latest TV addiction. Get out there and meet like minded people! Meetup makes it easy to do that. Whatever your interests are, Meetup most likely has a group for it. Whether you're into running and want to train for a local race, a reader looking for a book club or an outdoorsman looking for people to hike with, Meetup has kindred spirits just waiting for you.
BumbleBFF
Breaking in new friends is difficult and takes time. Maybe you're coming from a place you lived your whole life and knew your best friends since pre-school. When moving to a new city, it's natural to want more than just acquaintances. Having a best friend is priceless! This app makes it easy to search for people who have the same idea in mind, genuine friendship. It works just like a dating app. Users fill out a profile and the app will present matches. Users can communicate on the app without sharing their phone number.
Apps to get around
Maybe you don't have a car. Or maybe you just need help finding your nearest coffee shop. Whatever you need, these apps will present the information at your fingertips.
Google Maps
This one is a no-brainer. Most of us have this pre-installed on our phones nowadays. It's easy to use platform makes exploring a new neighborhood effortless. Just by scrolling and zooming you can see what's around you or search for something specific, such as restaurants or pet stores. 
Transit
This app is a bit more specific than Google Maps in that it focuses on ways to get around other than driving yourself. Say you're a bike rider. This app shows you where all the local bikeshare stands are. If you're trying to catch a lyft, it will provide you time estimates. It also provides numerous options for transportation in the unfortunate event you miss your train or bus after work and need another way home. 
Apps to make your move easier
Moving is stressful enough. These apps will help make your transition a little smoother and help you get settled into your new routine. 
Dolly
Think of Postmates, but for moving stuff. Instead of delivering food, they bring your heavy stuff to your apartment and unload it for you. These people are local pickup truck owners who will carefully take care of your heavy lifting for you in their own truck. 
Updater

If you forgot to forward your mail, or change your address for just about anything, this app makes it quick and easy to update your address. Just a few clicks on this app will save you time from having to track down everywhere you may need to update your information. 
Walkscore
This is not just a site to determine how walkable a city is anymore. Now it is a convenient app to navigate all places walkable in your neighborhood! You can easily find what you need within walking distance. Or if you are a public transit user or biker, this app adjusts for that too and shows you places you can get to via your choice of transportation. 
Apps to get to know your neighborhood
It can take a while to get to know a new neighborhood the old fashioned way, just by driving around and getting lost or seeing what you happen upon. Stay in control and quickly learn your way around your new digs with these great apps. 
Niche
Still looking for a new place to live? Make sure to download this app. It provides tons of information about different neighborhoods such as crime statistics, demographics, percentage of people who rent vs own homes, reviews by locals, and how many people live in a certain area. It will help you quickly narrow down the neighborhoods you want to call home. 
NextDoor
This is a great app to get to know your local hot spots and neighbors! Discover your new hidden gems from the locals themselves. Find out where the best local pizza joint is. Only local residents can answer questions to ensure that the information is accurate and stays within your neighborhood loop.
Preparing for your move can save tons of time and stress. Fortunately, it is easier than ever to have information at the tap of your phone with these great apps to help get you situated in your new city.