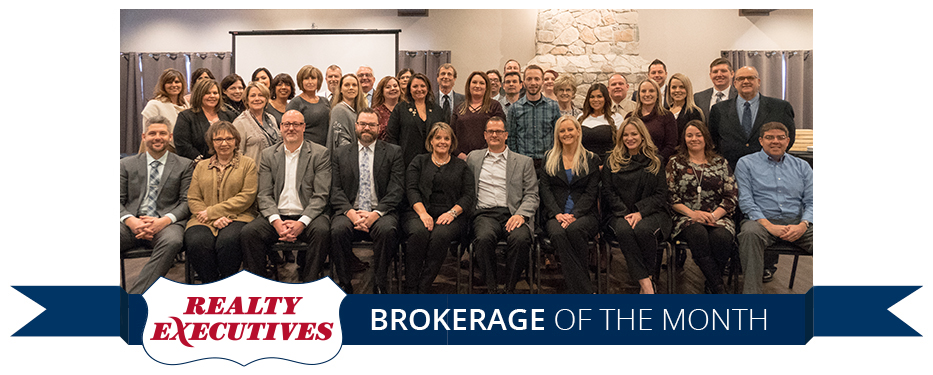 When Realty Executives Premier in Valparaiso, Indiana first opened its doors in 2008, Broker/Owners Mike and Pam Tezak led the firm of just four agents with a big vision: set out to redefine the business of real estate in northwest Indiana. They knew they would have to go toe-to-toe with several older and larger brands, and they believed they could do it better.
Today, with over 50 real estate professionals across two office locations serving buyers and sellers throughout northwest Indiana, the Tezaks are seeing their goals realized one by one, year after year.  The leading firm is on the cutting edge, making use of tech like virtual floor time and video marketing, and bringing local expertise to clients spanning Lake and Porter Counties all the way to LaPorte County. Realty Executives Premier is Realty Executives International's Brokerage of the Month for February 2018 — yet another measure of the team's success and leadership across a global real estate brand.
The numbers tell a story. With 965 closings and over $175 million in sales volume in 2017, Realty Executives Premier has again been recognized locally as the number one real estate office in Porter County.
"Our broker-agents average 16.7 transactions per year. Of the 54 people in our company, eight place in the top 20, and 14 place within the top 50 agents in Porter County," Mike Tezak said. "According to the Greater Northwest Indiana Association of REALTORS® our closest competitors trail us in the per-agent productivity category at 11.7 transactions per agent."
But for the Tezaks, high per-agent productivity is simply a by-product of their most important goal. "We have rejected the traditional model of the cut throat real estate office environment. Instead, our agents share their knowledge and expertise. We believe a truly cooperative environment is what breeds success. This in turn provides our firm's clients with the best representation and a truly competitive edge," said Pam Tezak. "Our business is built around simple concepts: Provide our clients and our agents with the highest level of service and cutting-edge programs, and create a culture that fosters innovation, success, and diversity. Realty Executives allows us the freedom and flexibility to do just that."
The brand's culture of entrepreneurial freedom has led the Tezaks to run after new ventures and reach new goals. It's no surprise an up-and-coming neighborhood in Porter County has given Realty Executives Premier their vote of confidence. Mike Tezak, along with his partners within Realty Executives Premier, are currently in the process of developing Stonegate subdivision, an upscale residential community planned for Jackson Township, Porter County. Realty Executives Premier will facilitate all lot and home sale listings within the subdivision.
Providing industry leadership goes beyond the local and community level for the Valparaiso Broker/Owner.  Mike Tezak also serves on Realty Executives International's Franchise Advisory Council (FAC). The FAC represents Broker/Owners from across the Realty Executives International system, and the group works with management to exchange ideas and opportunities for growing Realty Executives at the grassroots and network levels.
In addition to giving back to their contemporaries at Realty Executives through service on the FAC, the Tezaks have a forward-thinking philosophy when it comes to giving back to their own community.
"As a group, Realty Executives Premier chooses to support local not-for-profits that affect the younger people in our community. In addition to various youth sports teams, we sponsor Chalk the Walk (a local event that showcases local young artists), the Boys and Girls Club, the YMCA, and Valparaiso Parks Department," Pam Tezak said.
A sense of community and history are infused throughout Realty Executives Premier's culture, from the moment you walk through the company's front door at the historic office space located on Lincolnway, which the Tezaks have lovingly restored to its original 1927 look.
"About three years ago Pam and I were deciding what the next step was going to be for our company. We had been renting the building at 310 E. Lincolnway for many years and we knew it was time to make a more permanent decision. Our heart was in this building and this location, and when it became available to purchase we knew it was meant to be. One of the most fun things about owning this space is the memories people share about the past. Since it was built in 1927, so many people from Valpo have stories from working here at one of the various businesses from before, or memories of what it was like long ago," said Mike Tezak. Through the ongoing work of its leaders, agents, and staff, Realty Executives Premier is one of those special businesses that will continue to be an important part of the stories that get told by Valparaiso homeowners for years to come.