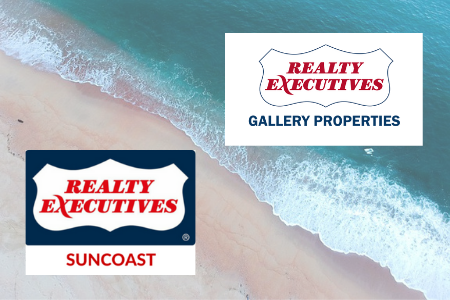 Realty Executives Gallery Properties of Orlando and Sarasota and Realty Executives Suncoast of Clearwater, FL have partnered for an expansion merger, joining the Suncoast brokerage with the Gallery Properties brokerage.
Phil and Linda Rogers of Realty Executives Suncoast, will continue to be active members of the Suncoast brokerage and real estate community, but will step down as Broker/Owners, to allow fellow Broker and Owner of Gallery Properties, Christopher Nutt, to take on the leadership role. Rogers and Nutt have worked together to create an alliance that encourages a smooth transition for their Executives and clients, as they take this step to slow down and focus on the sales side.
"With over 22 years with Realty Executives in Clearwater, Florida, we are excited about the strategic opportunity to enhance the brand with the expansion merger with Realty Executives Gallery Properties in Orlando and Sarasota." Phil Rogers said. "Looking forward to a "sea of blue" growing in Florida and being alongside our Executives as they grow."
Christopher Nutt, with over two decades of real estate experience, has spent most of his life in Florida, working with several well known real estate brands before becoming a broker/owner under the Realty Executives brand. Realty Executives Gallery Properties has grown in agents and in clientele over the years, making Suncoast a valuable addition to its brokerage family.
"I am incredibly humbled and honored to have the opportunity to continue the amazing legacy that Phil and Linda Rogers have created. Culture is one of our deepest core values and it can truly be seen in all of these outstanding agents." Nutt said. "I am excited to continue to grow our presence throughout the Clearwater marketplace and to have all of the amazing agents of Realty Executives Suncoast as part of our Realty Executives Gallery Family."
This expansion merger is the perfect example of a succession plan, coupled with growth, that long-standing broker/owners can choose from when looking to step back, and still have the business they've spent years building, flourish. The Rogers legacy and brokerage, with over 40 years of service and industry leadership, will thrive through ongoing collaboration.
"Phil, Linda, and Christopher have been incredible owners and we are so happy for them as they start a new chapter in their lives and business." Alysia Heun, Vice President of Realty Executives International, said. "We like to think of our brokerages as a family of like-minded people with the same goal- to make Realty Executives the best it can be and to provide unparalleled client service. This partnership is a testament to that."
Realty Executives Gallery Properties and Suncoast will now be serving Orlando, Sarasota and Clearwater markets. For more information or to contact your nearest Florida agent visit https://www.realtyexecutives.com/office/galleryproperties.