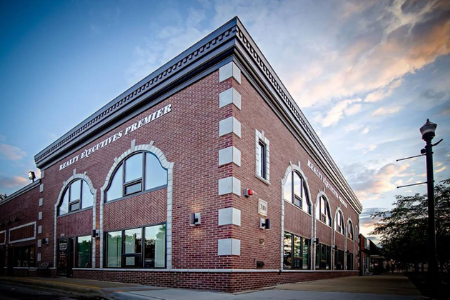 By: Kayla Belec, originally published in valpolife.com
With more than 1,000 closed sales in the MLS, over $200 million in production, and a new office established on the bustling Crown Point square, it's almost an understatement to say that Realty Executives Premier has had a successful year. Owners Mike and Pam Tezak adhere to the phrase, "success breeds success," and with their company's philosophy for choosing quality over quantity on all fronts, they're definitely on to something. Here's an overview of 2018 from the dynamic group.
"As far as accomplishments go, 2018 proved to be outstanding," Mike said. "We had the right offices, brokers, and teams across the board, accomplishing all manner of exciting things."
The Tezaks credit all the success to their outstanding agents.
"They create such a fun and collaborative environment, and they really want to see each other succeed," Pam said. "That makes all the difference in a real estate agency. They know that when one agent succeeds, we all succeed."
The number of Realty Executives Premier's agents serves as the best example of their commitment to quality over quantity. Realty Execs keeps their number of agents to around 50 and plan to do the same in Crown Point. The Tezaks say that maintains a sense of closeness within the company and its clients, thereby cultivating that successful and encouraging environment. Furthermore, they work exclusively with experienced agents, emphasizing the "Premier" in their company's title. The only instance a new agent is employed is if they're hired straight to a team, where they can learn from more seasoned professionals. Otherwise, agents with years of experience and know-how are the ones guiding their clients through the big decision of buying or selling a home.
"It's mind-blowing to me how many people inadvertently risk thousands of dollars on inexperience," Pam mused. "An agent is more than the person handling transactional moves. An agent should really act as a guide, a confidante, someone who will help you make the right decision for you, not for themselves."
Even the most seasoned agents never stop learning once stationed with Realty Execs. The Tezaks ensure that education is a priority for their agents, and see every experience as a learning opportunity for the company.
"We're constantly striving to improve," Pam said. "We never want to have a mindset of, 'Oh, we're at the top of our game right now, so let's stop and slow down.' We are always growing and evolving."
In more ways than one. With the addition of the Crown Point office came new ways to grow their agents and their business. The Tezaks said they allow their agents to choose a homebase where they will be listed in the MLS, but have the ability to work between any of the agency's offices.
"When we decided to branch out, we made a conscious decision that when we refer to our agents, it is always Realty Executives Premier, not Realty Executives Crown Point, Valpo, or St. John," Mike said. "We absolutely refuse to create an 'us vs. them' environment. We love the fact that our agents work so well together between offices, but as one unified team. It has proven to be wonderful for our clients, too, whether they're scheduling remote closings close to home, or meeting in one of the offices for paperwork."
Mike said that he cannot imagine the company without the Crown Point office, and the talent within it.
"The agents that came on early or are slated to come on board soon are incredible," he said. "Set aside the fact that they are incredible agents, the general personality developing in the office is amazing in and of itself."
So, what's on tap for 2019? The Tezaks kept a somewhat tight lip, but they let the cards show just enough to indicate that this year will be even bigger than the last.
"We are in the process of getting dual licensure so our brokers will be able to represent clients in both Indiana and Illinois," Mike began. Then the Tezaks shared a secretive smile. "We also have a few other things coming down the pipeline that we are really excited about. If we continue to have such great agents, with excellent client service, we know the future's looking even brighter."
For more information on Realty Executives Premier, visit their website.