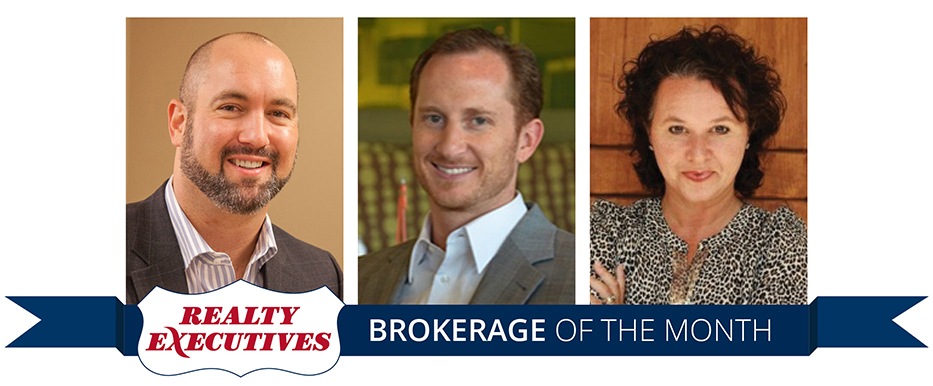 Realty Executives International is excited to announce Realty Executives Phoenix has been named the January 2017 Brokerage of the Month. Led by CEO and President Mary Frances Coleman, owner Jeff Hawke and owner Joel Moyes, the firm made incredible strides in January 2017 as well as throughout the last quarter of 2016.  Notably, the company attracted RedBrick Realty, a brokerage founded by Discovery Channel's Property Wars star, Doug Hopkins and one of the most well-known real estate firms in the Phoenix area. RedBrick Realty has since taken on the Realty Executives name and the group of nearly 100 real estate professionals continues to operate in Mesa, Arizona.
"Our vision as a brokerage aligned because we expect nothing less than the highest level of professionalism from our agents, and so does RedBrick Realty" commented Coleman in regards to the merger. "We are where the experts are™ and they fit in nicely with that."
Hopkins has sold over 10,000 homes in his 20-year-long career. His team of almost 100 agents close over 1,000 transactions per year, including foreclosures, short sales and auctions, for which Hopkins is famous.
"Realty Executives is an organization synonymous with success, and my vision for the continued growth and expansion of RedBrick and its talented agent team aligns precisely with that of the company," said Hopkins.
Realty Executives Phoenix finished the year strong, closing almost $3 billion in sales. In addition to being known for ranking among the most productive both in the state and across the country, Realty Executives Phoenix also promotes giving back to the local community at a brokerage-wide level.
The firm made a strong charitable impact in numerous ways throughout the last quarter of 2016. Participating in a larger industry-wide effort, Realty Executives Phoenix took part in the Salvation Army's "Real Estate Wednesdays" program, with over 100 Executives dedicating their time to ring bells and collecting donations in five locations throughout the Valley.  Real Estate Wednesdays 2016 raised more than $199,000 for The Salvation Army in the Phoenix-area.
With branch office locations throughout the Phoenix metropolitan and surrounding areas, the company also took part in a donation drive to support Goodwill of Central Arizona's career centers. Local organizations, including the Arizona Animal Welfare League, Phoenix Children's Hospital and Phoenix Suns charities were also boosted by the firm's financial support.
With many Executives throughout the company also giving back to the community on a personal level, Coleman has developed a special recognition program for 2017. An ongoing "Executive Spotlight" feature will honor the efforts of one outstanding agent per month, highlighting the cause company-wide and continuing the spirit of giving back all year long.
From all of us at Realty Executives International, congratulations to Realty Executives Phoenix!
Pictured above from left to right, are Joel Moyes, Jeff Hawke and Mary Frances Coleman.