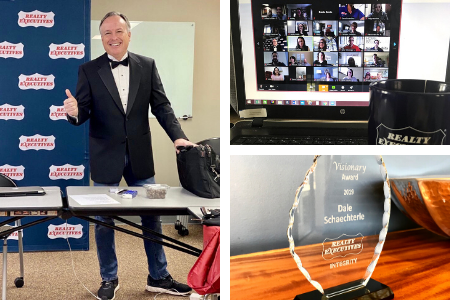 Realty Executives Integrity, of southeastern Wisconsin, is proud to announce Broker/Owner Dale Schaechterle as the first ever recipient of their Visionary Award. This award was created to honor a real estate professional who not only is a leader in their field, but works to develop the skills of his or her entire team and plan for a better future.
Over the past 35 years, Schaechterle and his wife Vicky, have made his name throughout Wisconsin real estate, establishing a brokerage of highly productive sales executives and putting together one of the most recognizable and productive teams in the area. Created as a unique approach to providing better service to consumers, Schaechterle and the Executives at Realty Executives Integrity are committed to customer service and real estate excellence. 
The annual awards celebration is always held in person, but due to COVID-19, this year's event was held virtually on May 15. The celebration included several other awards given to outstanding team members and testimonies of gratitude toward Schaechterle. Despite being held online, this year's awards celebration was one of the best they've had over the years. The morning was filled with stories of "Why" Realty Executives, laughter, tears and celebration for hard-earned accomplishments. The awards celebration truly highlighted the heroes of Realty Executives Integrity, our sales executives, who are the very reason that Schaechterle does what he does every day.
"I had no idea that the team had been planning this and for them to work so hard during a time that is already stressful, just to thank me, is beyond amazing." Schaechterle said. "I've built a career with the best people I could ask for and this is just another example of the time and effort they unselfishly put in for others."
Realty Executives Integrity serves home buyers and sellers throughout the entire southeastern Wisconsin area, with five office locations. The brokerage is led by an amazing leadership team with Dale Schaechterle at the helm, along with Dana Keegan, Becky Wilde, Claire and Adam Zastrow.
"Dale and everyone at Realty Executives Integrity has continually shown their dedication to the home buyers and sellers of their community," Patrick van den Bossche, President of Realty Executives International, said. " We are so proud to have Dale as a part of our team and cannot wait to help celebrate his new achievement as the Visionary Award recipient."