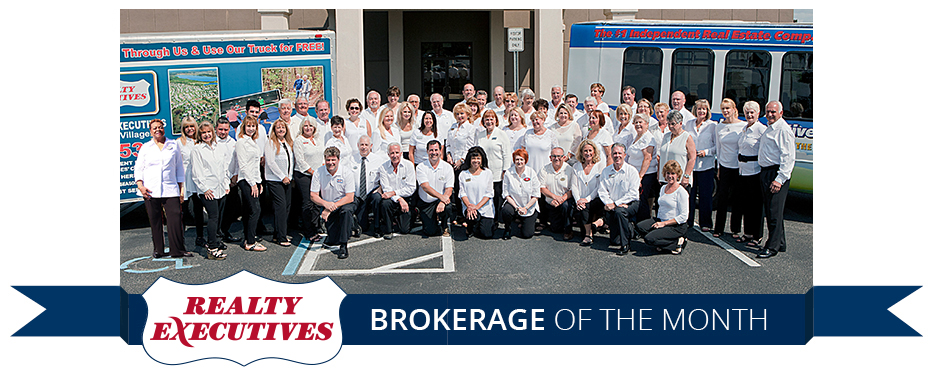 Realty Executives in The Villages is Realty Executives International's Brokerage of the Month for March 2018. With more than 75 real estate professionals serving popular areas in Florida including The Villages, Ocala, and Wildwood, the firm has thrived and experienced incredible agent count growth under the leadership of Broker/Owner Glenn Stein, while remaining a leader in both sales volume and units sold over the last decade. *
"We've always seen growth but lately we've seen massive results. Realty Executives in The Villages has doubled in size over the last three years," said Stein.
Stein opened the Ocala office in 2004 and The Villages office later that year with humble beginnings.
"In Ocala, it was my wife, me and two other agents. The Villages location later opened in a tiny office with zero frontage and three agents. In the early years, I partnered with leading Realty Executives agents who had become experts in The Villages before anyone knew much about the area. They did a great job taking the brokerage to the next level from 2004 up until 2014. I stepped back into the ownership role in 2014 and since then we have grown from thirty-three to seventy-seven real estate agents. We have also grown in market share from closing $9.4 million in sales volume in 2005 to over $206 million in sales volume in 2017," Stein said.
As a best selling author and Tom Ferry business coach with a heart for training and teaching, Stein's goal remains to help all of the real estate professionals in his firm reach their individual goals for their businesses. Staying focused on adding value for agents in his firm has in turn led Executives to refer others to join the Realty Executives family. Those personal recommendations are incredibly powerful coming from agents with a reputation for integrity and productivity in the community.
"Many of our top Executives including Cindy Wise, Sally Love, Kathy Abruzzo and Bob Bullock have paved the way by doing the right thing by our clients. People know this in the community, and expect 'level ten' service. This has set the bar for our entire brokerage with the rest of our group also providing excellence in real estate to the community," Stein said.
With a long-standing local reputation for success, key members of the brokerage rank among the best of the best across Realty Executives International's global network as well. Two leading teams hailing from Realty Executives in The Villages recently received top honors for their work last year, gaining special recognition in Realty Executives International's annual awards program. Sally Love and her team took home two "Top Team" awards; the Silver for commission and the Bronze for units.  Leaders Kathy Abruzzo and Bob Bullock also scored "Top Team" awards including Gold for units and Bronze for commission.
Putting key administrative staff in place and increasing broker support has been another critical element to building a positive, agent-centric environment. "Our administrative staff in the best. My wife Juliana is a vital part of the support team by being supportive when I need to help our Executives after hours," said Stein.
The firm has managed to blend tried-and-true, practical strategies for connecting with the community and each other while adding in high-tech approaches for today's business. As a market leader since 2006, Realty Executives in The Villages has great name recognition and utilizes advertising and marketing platforms consistently.
"In our 55 plus community, the newspaper is still king and we advertise daily. In addition to a weekly 'new listing' caravan bus tour, we also makes use of a company moving truck which boosts name recognition in the community. I conduct a Monday morning conference call, Wednesday afternoon business growth training session, and a twice monthly group coaching program via Zoom," Stein explains.
To build camaraderie while giving back, since 2006 the brokerage has taken part in golf tournaments benefiting Hospice and St. Jude's. In 2017, the firm donated over $10,000 dollars to St. Jude as part of a golf tournament and silent auction event. Last year the company also held a musical bingo event and raised over $8,000 dollars to benefit the underprivileged children of Wildwood.
Whether in terms of training, networking, giving back to the community or providing local expertise to homebuyers and sellers, everyone throughout the Realty Executives team in The Villages benefits from the brand's approach to allowing the local experts freedom to run their own show.
"The Realty Executives brand just fits our entrepreneurial spirits perfectly," Stein said.