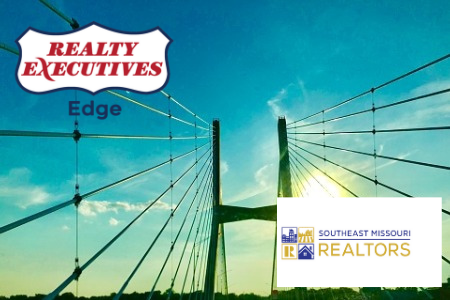 Four Executives of Realty Executives Edge (formerly Realty Executives of Cape County), of Cape Girardeau, Missouri, were recently honored by Southeast Missouri REALTORS® at the annual installation and award luncheon.  Executives Lois Long, Raelenna Ferguson, Becky Buehler and Bill Cole were among the award recipients.
Southeast Missouri REALTORS® is a local trade association that provides its members with opportunities for collaboration and cooperation in order to educate, promote growth, protect the rights of property owners, and support economic expansion in Southeast Missouri.  With over 300 REALTORS® and more than 70 affiliated businesses, the association serves Cape Girardeau, Bollinger, Scott, and Perry counties.
Lois Long was awarded REALTOR® of the Year.  This award is given to a member of the association who best lives up the REALTOR® mission statement and is active in community service or volunteer work.  Long joined Realty Executives in 2012.
Raelenna Ferguson received the Community Service Award for her role with One City, a nonprofit organization she founded along with her husband.  One City works to better racial reconciliation and socio-economic divides by creating space and opportunities that unite the community. Ferguson has been in real estate since 2004 and developed her own real estate team in 2015.
The MVP Award was given to Becky Buehler for her exemplary commitment, cooperation, ethical and professional behavior, communication skills, and team mentality.  Buehler began her career as a REALTOR® with Realty Executives in 2006. Buehler was also the 2017 recipient of the REALTOR® of the Year award given by Southeast Missouri REALTORS®.
Lastly, Broker/Owner Bill Cole received Manager of Year.  This honor is designated for managers who have inspired their agents and association to excel in the industry through ongoing education and training, creative business models, and support and encourage engagement throughout the organizations and communities they serve.
Realty Executives Edge was founded in 2003 by the Cole family. During that time, the brokerage has grown from four to nearly 100 agents.  In 2019, Realty Executives Edge had a historic year, completing over 1,400 transaction sides and capturing an unprecedented 48 percent share of their local market sales volume.