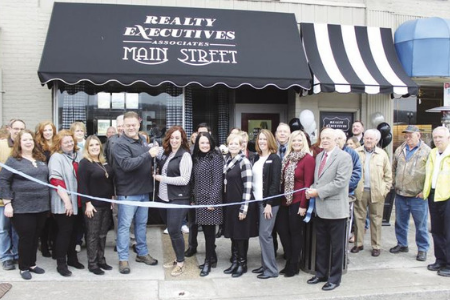 Realty Executives Associates Main Street in Sweetwater, TN held a grand opening and ribbon cutting ceremony in Sweetwater on January 20. A large crowd of family, local government, business and community leaders and the Monroe County Chamber of Commerce came out for the event. Owner Scott Wilson and his wife Julia have been joined by numerous well-known local real estate professionals in this new venture. The newest Realty executives Associates office is located at 207 N. Main Street. The building was once a real estate office in the late 1800s.
Realty Executives Associates, a Knoxville-based brokerage with over 600 real estate experts serving buyers and sellers across nine counties in east Tennessee, is ranked number one in Knoxville by sales volume, selling more real estate that its top four competitors combined and has led the local market for nearly four decades. The company closed over $1.5 Billion in annual sales volume in 2017 and is projected to close over $1.5 Billion in sales volume for 2018.  
Founded in 1979, Realty Executives Associates has evolved into a one-stop shop, power-house brokerage with strategic industry partners, concierge agent-assist services, marketing experts, up-to-date technology offerings and top-notch daily broker support.
Originally published in advocateanddemocrat.com.