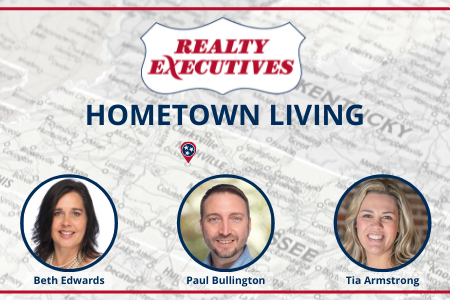 Three top Realtors® in Dickson, Tennessee, have joined forces to take their already successful real estate practices to the next level. The trio announced the opening of their new brokerage, Realty Executives Hometown Living, in the first quarter of 2022. 

Realty Executives Hometown Living combines the talent and resources of Paul Bullington, Tia Armstrong, and Beth Edwards. All three owners have high-performing real estate businesses but sought an avenue to progress their careers, build a legacy, and continue to expand their footprint. The trio concluded that merging to create a cohesive leadership team and leveraging the power of an established and respected franchise was the perfect opportunity to develop in Dickson and beyond.

Paul Bullington acts as the Director of Operations for Realty Executives Hometown Living. He has experience as a real estate broker, property manager, and investor. He began his career in real estate in 2007 and has earned his GRI, ABR, AHD, e-PRO, SFR and is an Accredited Staging Professional. 

In addition to his role with Realty Executives Hometown Living, Bullington is the principal broker, owner, and property manager of Willow Residential + Property Management, managing properties in Dickson, Hickman, and Humphreys counties. As a property manager, he earned the Accredited Residential Manager® designation and is a member of the Institute of Real Estate Management and the National Association of Residential Property Managers. Bullington has a people-first mentality and strives to treat his investors, tenants, clients, and agents with the utmost care and respect as befitting a friend or family member. Paul lives by the motto, "More than real estate: RELATIONSHIPS."

Tia Armstrong, the Director of Broker Services for the new brokerage, comes with a long family history immersed in real estate. Her parents were both real estate agents and met at Century 21 in the 1980's, making her passion for the industry nearly hereditary. Armstrong began her career in real estate in 2014 after having her third child; returning to corporate America was no longer a desirable option. Armstrong later obtained her broker's license in September 2020 and continued her path as a top Realtor® with dedication and determination. While she loves sales, training, and mentoring other agents, she is particularly skilled with investment and development.

"Paul, Beth, and I knew we wanted to work together to grow our already successful businesses, but we knew there was a missing link to take us to the next level," Armstrong said. "When we had our initial discovery call with Patrick [van den Bossche], we all left that call with the same thought- 'It just feels right!' We couldn't be more pleased that we learned about Realty Executives. Our paths crossed at the perfect time. We and are looking forward to this journey together."

Rounding out the leadership team is Director of Agent Services, Beth Edwards. Edwards also comes from the corporate world with diverse and deep experience in customer service. She began her real estate career in 2014 while working in an auction office. Her experience helping others achieve their ownership goals inspired Edwards to obtain her license and focus on serving the community.

"From there history continues to write itself," said Edwards. "My business goal has always been to help turn people's dreams into lasting memories. Now I also get to turn my own dream of opening a brokerage into a reality. Realty Executives Hometown Living will be the 'destination company' for professional, productive agents who fit our culture and our client-centric philosophy."

The brokerage serves Dickson, Hickman, Lewis, Humphreys, Houston, Davidson, Williamson, Cheatham, Montgomery, and Maury counties, with potential to expand in future years.

"We are grateful that we connected with Paul, Tia, and Beth as they made the pivot from agent to owner. The entrepreneurialism, professionalism, and passion within them was evident from the first conversation, and we are going to do great things together," said Patrick van den Bossche, President of Realty Executives International. "We want to partner with true real estate professionals who lead by example- ones that are unafraid to lean into healthy growth and expansion. We are confident that Realty Executives Hometown Living is the right group to provide first-class service to Dickson and surrounding communities. We are extremely proud to have them wave the Realty Executives banner."

To learn more, contact Realty Executives Hometown Living at 615-802-2000 or visit HometownLivingRE.com.