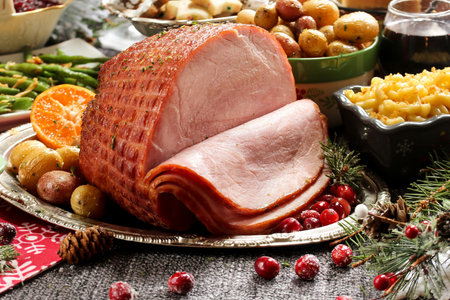 The holiday season is the time for many festive events, but they all have something in common: food! One staple holiday food this season is the ham, and it's easy to see why. Filling, versatile, and just plain delicious, this food will be a favorite for a Christmas dinner, a New Year's party, or any other festivity.
Making the perfect ham is challenging, which is why we're here to help. So, let's help you create a meal that everyone will love.
Bone-In or Boneless?
Boneless ham can be easier to carve because you don't have to worry about carving around the bone. It is also quicker to cook. However, bone-in ham gives you more flavor because the bone works to contain moisture in the meat. With the bone, you're more likely to have juicy meat every time and it's still relatively easy to carve. Place your fork near the bone, and carve with a knife, stopping when it contacts the bone.
How Big Should It Be?
How much ham should you have if you prefer to avoid having too many leftovers? It's simple. Unless you have a big eater in the family, a half-pound per person is ideal if you choose a bone-in. For boneless options, you can pick one-third pound per person. So, if you're looking for 10 people, pick a 5-pound bone-in ham, or around 3.5 pounds for a boneless. But, of course, there's nothing wrong with choosing something a bit bigger in case someone's hungry!
Creating the Perfect Glaze
The glaze adds delicious flavor to your meat and is simple to make. People generally use a brown sugar glaze consisting of a cup of brown sugar and 2 TBSP of Dijon mustard. Other people may use honey or add butter, spices, or cloves.
Either way, create enough to baste your ham several times. There's nothing wrong with creating more than you need; it can make for an excellent dipping sauce!
Preparing the Ham
Mix the glaze. Preheat the oven to 350 F. While your oven is heating, use a knife to create a shallow diamond pattern one inch wide on the fat side of the rind. Afterward, place the ham inside the baking tray. Pour around 1/3 cup of water into the pan, then baste the meat with the glaze. You can also add a slice of pineapple to the top.
You'll want to bake the ham for around 10-12 minutes per pound. Reapply the glaze multiple times throughout the cooking process.
The cooking time can vary depending on your oven type, the ham's shape, and other factors. One way to ensure your ham is done is to have a meat thermometer. If it has an internal temperature of 145 F, it's ready to eat.
Reheating Leftovers
The quickest way is to pop those ham slices inside a microwave for about 30 seconds. However, doing that can give you dry ham. So, if you want the ham to taste just as good as it was when you baked it, consider using the oven.
First, preheat the oven to 275 F. Then, wrap your ham with aluminum foil. Bake it at 10 minutes a pound, and when the meat thermometer is around 140 degrees, you can enjoy your leftovers.
Since the leftovers are much smaller, you can also try this inside an air fryer. The temperature and cooking time may vary, but with an air fryer, you can quickly check it at any time without losing its moisture.
Don't Be Afraid to Ask a Butcher
There are many types of hams suited for many needs. When choosing a ham, don't be afraid to buy a ham from a butcher in your local area. While the convenience of a supermarket can help during the holidays, a butcher can give you a fresh cut ham, cooking instructions, and often a glaze or recipe to complete your meal.
Parting Thoughts
Food is a large part of the festivities during the holidays, so make your ham a centerpiece on the table! Through these tips and a little trial and error, you can create a holiday ham that will have everyone asking for seconds.