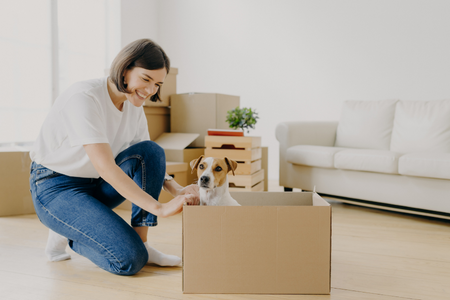 According to the National Association of Realtors, homebuyers actively search for a house an average of 8 weeks before making a final decision. House hunting requires planning, access to finances, and a balance of present and future needs. Add pets into the mix and each new effort is slightly more complicated.
Realty Executives explores various useful tips to help make your house hunt easy and streamlined for you and the pets.
Take Note of What's Important
Downsizing provides various benefits, such as:
Lower maintenance cost and utility bills, a potential savings of thousands of dollars per year.
Ease of cleaning and upkeep, making it easier to keep a pet.
Reduced clutter, and learning to live more simply in a smaller space.
When searching for houses it's important to maximize the benefits. An effective way to achieve this is by creating a list of must-haves for the new home:
Outdoor space such as a fenced-in backyard where your pet can roam and be active.
Two or more bedrooms to accommodate all family members and have space to invite guests.
A room that you can transform into a functional workspace for your at-home business — or the at-home business you're about to launch!
Proper division among rooms. Modern houses often come with open floor plans with the minimum partition between the kitchen, living room, and bedrooms. Sometimes cordoning off an area is necessary when you live with pets.
Be Clear on Finances
In addition to your requirements, create a budget covering all costs associated with downsizing. When downsizing, the majority of the cost of the new home is covered through the sale of the old home. Depending on the neighborhood, even a small home can fetch a hefty sum, so talk with an experienced realtor, like an agent from Realty Executives.
Use your requirement list as a tool to convey your exact expectations to the realtor. Utilizing their market know-how, realtors can start sending you potential property listings within a day. Moreover, through experience, they are skilled in helping clients find pet-friendly houses, something which can prove to be difficult to find via online search platforms.
Before applying for a mortgage, be clear about your finances, a key factor being your credit score, which ideally stands at 750 or above. Lenders will take a hard look at your score, which is based on a number of factors that are included in your credit report, so be aware of what all is listed on that report before approaching a lending professional or institution. You can access a free report at AnnualCreditReport.com.
The better your credit, the better the terms of financing. Half a percentage point can save thousands of dollars over the course of the loan. Prequalifying for a loan can lock in the rate, and it gives the agent an idea of the spending limit. Be sure to ask, "What are mortgage rates today?" and calculate monthly payments before committing to any long-term loan.
Sell Your Home
Your downsizing process includes three parts – selling your home, purchasing a new home, and moving. Managing these alone is a cumbersome task, however, first thing's first – you've got to sell your home.
HomeLight notes that staged homes can sell for up to 25% more compared to non-staged ones. As realtors are staging experts, they can assist in decorating your home, and negotiate a higher selling price. Staging can include:
Landscaping and decorating outdoors spaces
Decluttering common spaces
Conducting necessary repairs and minor remodeling
Landscaping services on average cost around $80, while the cost of other projects will depend on your requirements. In total, expect to spend around $400 on staging.
Manage Your Pet's Needs
A sudden disruption in a pet's routine can cause them a lot of stress, affect their sleep cycle, promote increased attention-seeking behavior, and uncharacteristic aggression. This is especially true if you're also experiencing additional stress – say, because you're trying to sell your house – which can rub off on your furry friend. Hence, it is important to gradually modify a pet's routine, and to try to manage your own stress.
If you're moving into a new time zone, make necessary adaptations to your pet's feeding, sleeping, walking, and play schedule. Additionally, introduce your pet to their new home before moving, allow them to explore the space, and gain familiarity.
Furthermore, research vet clinics, animal hospitals, and pet shops in your new town. Interact with other pet owners in the area and check online reviews about these services.
Before finalizing a home, ensure that it meets all your requirements, is financially viable, and is suited to cater to the needs of your pet and family. Soon you'll all feel at home with your new lifestyle in your new house.
Please follow and like us: