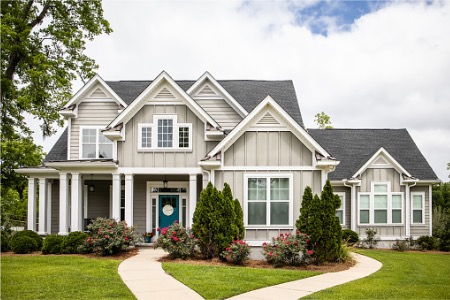 After receiving your tax refund, you might be considering some renovation projects for your house. Before you grab a hammer and get started, take the time to research what home improvements will increase your property value. Here are some easy ways to reinvest in your home while making the most of your tax refund.  
Curb Appeal
The landscaping around your house is the first thing people notice about your residence. By refreshing the exterior of your home, you can easily give it a whole new look without spending a large amount of your tax refund. 
One of the fastest ways to elevate the appearance of your yard is to add some flower beds. These simple gardens can include easy-to-grow perennials like purple coneflowers, hostas, daisies, or lilies. If you have a green thumb, you could even plant your favorite herbs to add some leafy greens to your landscaping. No matter what you decide to grow, ensure that it is tough enough to survive the seasonal weather of your region. You don't want to spend time and money on plants that won't last through the hot summer months.  
Another way to boost your home's curb appeal is to redecorate your front porch or patio. Try painting your front door in a bright complementary color to give the front of your home a bold look. Just make sure the paint you use is designed for exterior surfaces. For a more inviting look, you can also add some comfortable patio furniture and string lights to give your guests another place to sit and enjoy the weather.
Upgrade Your Kitchen
Depending on color and style, your cabinets can make or break the feel of your home. If you find that your current kitchen is feeling out of date and dreary, a fresh coat of paint on the cabinets could be all that it needs. To make your kitchen more colorful, you can paint the lower cabinets a daring color like sage green or midnight blue. To balance this out, you will then need to keep the upper cabinets a neutral color like French grey or rich cream. After you finish painting, you can even change out the handles and knobs for an extra boost of style. While this might seem like a small change, it can have a big impact on the rest of your home.
For a larger investment, you can replace your current appliances with stainless steel models. This kind of update can make your home easier to sell as potential buyers appreciate the chance to have a shiny new fridge and oven in the kitchen. New appliances can help you save money too as they tend to be more energy-efficient than older models. 
Save Up
If you have decided to invest your refund in a more expensive project like installing hardwood flooring or granite countertops, you might want to save for the future. To make budgeting for projects more manageable, you should create a specific savings account for home improvement purchases. This process not only keeps your bank accounts more organized, but can also speed up the preparation for larger, more costly renovations.

It may be beneficial to look into an online savings account without monthly fees to better organize your finances and save on additional costs. Then you can create a monthly budget to help you automatically set aside money. If you want to track the balance of your home improvement savings account, you can even elect to have alerts sent to your mobile device. Once you have enough money saved up, you can purchase the materials for your next project without having to pull money from your personal savings account.
Purchasing a home is a great way to invest your money.  And each time you improve a room in your house, you can increase the value of your property. Even if you are not planning to move soon, using your refund to renovate your home can lead to a quicker sale and higher selling price in the future.