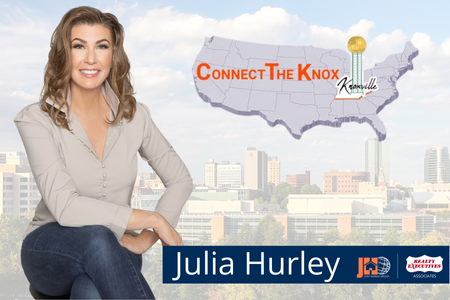 In 2022, the state of Tennessee saw numerous opportunities for growth and development.  Recognizing this, Julia Hurley of the Just Homes Group with Realty Executives Associates decided to start a podcast called Connect the Knox.  Her goal was to connect Knoxville to the rest of the nation.
As a Realtor®, Hurley has over eight years of experience and 800+ transactions under her belt. She believes that "A home is not a home because of its room dimensions or the color of the walls. It is about how you feel when you walk through the front door, and the way you can instantly envision your life unfolding there. It's more than just real estate. It is about your life and your dreams." With this concept in mind, Hurley made it her mission to show the world why Knoxville is a place worth calling home.
Since its inception, the podcast has gained a large following with over 100,000 listeners on platforms such as Tik Tok and Spotify. She continually works on growing and expanding the audience.
One of the unique aspects of Connect the Knox is the lineup of special guests which include MLB catcher Kole Cottam (a Knoxville resident), UTK Systems' President, Randy Boyd, WWE wrestler and Knox County mayor, Kane, retired MLB catcher Zane Chavez (another Knoxville resident), and retired WWE superstar Ricky the Steamboat Dragon (also a Knoxville resident).
Hurley's podcast showcases the best that Knoxville has to offer to both relocating individuals and current residents. It is just one more innovation in Hurley's existing arsenal of technology, market research, and business strategies. It is the vehicle to share information about the city she loves by casting a wide net. Being a hyper-local expert no longer has geographic bounds.
You can find the Connect the Knox podcast on any platform where podcasts are available. Simply search for "Connect the Knox" to start listening and learning about all that Knoxville has to offer.
To learn more about Julia Hurley and the Just Homes Group from Realty Executives Associates, visit JustHomesGroup.com.