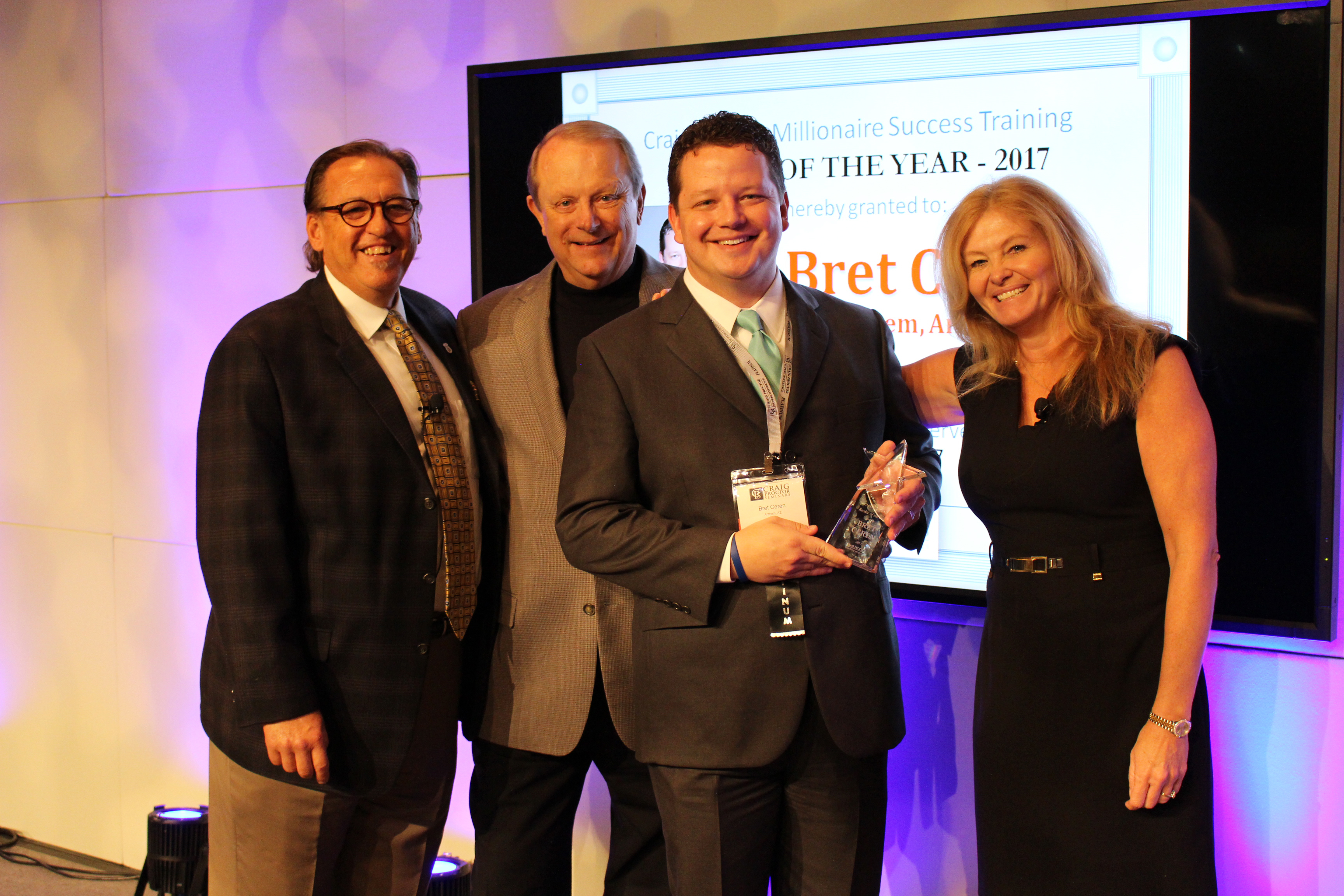 Bret Ceren, MBA and REALTOR® with Realty Executives Phoenix in Scottsdale, Arizona is the recipient of the prestigious "Rookie of the Year Award" by Craig Proctor Coaching International. The award is given to the agent who has been a Craig Proctor Success System member for less than a year and has excelled at system implementation. Candidates across North America are considered for the recognition.
Following a successful corporate career in marketing and operations, Ceren, a long-time Phoenix resident, launched a career in real estate in 2014. Ceren took advantage of a Craig Proctor training opportunity Realty Executives Phoenix brought to it's real estate professionals in 2016, and fellow Realty Executives agent and Craig Proctor Coach Lester Cox stepped in as a mentor to Ceren. Cox has witnessed the results of Ceren's commitment and professionalism first hand.
"Bret eagerly and simply followed the directions of his coaches, copied the system as presented, and masterfully applied the principles of Craig's system. This is resulting in a rapid, yet steady growth in his business and we expect he will continue to have record-breaking months in his career for many years to come," says Cox.
Year-over-year, Ceren saw his annual deals double and annual GCI increase by 171%. Ceren harnesses the principles of the coaching program and the brand equity of his brokerage along with other unique offerings and qualities to differentiate his business and benefit clients.
"In Arizona, to get started in this industry one must be able to learn and recite the regulatory requirements in order to protect the consumer. Today's market has a very high level of sophistication for both buyers and sellers — and meeting their needs is not taught in pre-licensure. Realty Executives represents the standards for today across all market segments, and the shield is a visual indicator of success for the client, delivered by the Executive serving and supporting them. I utilize trademarked proprietary systems and processes to benefit my clients, including guaranteeing the success of my performance on their behalf. These come from the groups I associate with, as well as the corporate and educational experience I've invested in. They provide insights in the market and specific properties that likely won't be given by the competition," Ceren says.
While Ceren reports that inventory is tighter for buyers, especially at the entry level, most are able to find desirable homes once top priorities are identified. Sellers are experiencing results from this as well.
"As long as sellers aren't expecting more than the market is delivering right now; in many cases, it is a great time to move up. Strong demand for entry-level to early mid-market homes and more inventory at higher levels combine for a good opportunity for those considering a move like this. Ultimately, buyers want houses and sellers want buyers, so I work hard to deliver that solution to each," Ceren says.
Ceren's long-game commitment to proven systems and processes equip him to guide sellers and buyers through any market, with the Craig Proctor Coaching System providing him with much of the foundation.
"This program is incredibly deep. We are accustomed to being able to sprint through things for incremental results in a short period of time; this requires a long-term commitment to fully duplicate and implement this powerful work for quantum leaps in the results we see. Taking it a step at a time to really internalize a piece at a time was the foundation," Ceren says.
Craig Proctor Coaching is an International Real Estate Success Coaching organization that has shaped the lives of over 30,000 real estate agents across the globe. Founder and CEO Craig Proctor designed the Real Estate Success System that underpins his coaching programs for his own highly successful real estate business of over twenty years, recently devoting 100% of his time to coaching other agents worldwide.
"Bret worked really hard over the past year and has implemented all key strategies to the letter," said Craig Proctor. "He studies hard, applies the principles, and is very charitable. He has built a balanced life, a profitable business, and is achieving stellar results for his clients. There is no more worthy recipient for this award this year than Bret."
For more information on Bret Ceren, call 480-401-2330 or email BretCeren@RealtyExecutives.com.
To promote yourself from "Agent" to "Executive" and to learn more about how the Phoenix Realty Executives Brokerage helps agents grow their careers, please reach out to Gerry Russell at  602-957-0444 or visit https://www.realtyexecutives.com/office/phoenix/joinus.