By: Army of Davids Garage Doors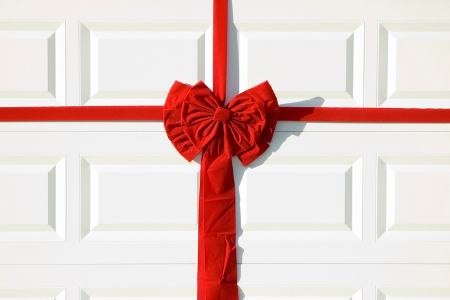 As we approach the holidays, more and more homeowners are pulling out their Christmas decorations. Glittering lights, garlands, and wreaths are just a few of the decorations you may find gracing the exterior of homes.
But you may be surprised that the garage door, front door, and home siding can be a part of the Christmas cheer, too! There are a lot of ways you can decorate your home without harming its finish. It will make your home more festive and bright, just in time for the holiday season.
We've come up with a list of 8 easy ways you can decorate your home's exterior for a festive touch. With materials you can find at a nearby store, you'll be all set to transform your home and yard into a fun Christmas wonderland.
8 Ways to Decorate Your Home's Exterior
1. Wrapping Paper
Wrap your front door and garage door in wrapping paper! Find a great deal on bulk wrapping paper at your nearest store and go festive! However, don't wrap the edges of the front door or garage door, as you don't want to interfere with any hardware. Move a few inches from the edges and start wrapping the panels. You can even place a huge bow in the middle once you're done. Just make sure it's secure so it won't fall off when the door's moving.
2. Christmas Wreaths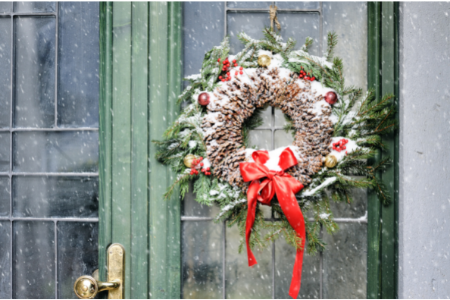 Christmas wreaths are a great option to decorate every home entrance. You can find both fake and live wreaths to decorate with bows and lights. The best way to hang wreaths is on the front door or above the garage door so they can stay secure.
3. Lanterns
Lanterns can be hung above or beside your front door or garage door to add pops of extra light. Choose a few of your favorite lantern designs to coordinate in places around your home's exterior. You can find both electric and battery-powered lanterns. With electric lanterns, you can even put the lights on a timer so that they won't be on during the night.
4. Garland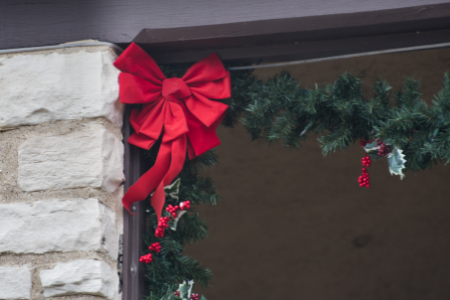 Garland is another popular choice of outdoor Christmas decoration. Like wreaths, you can purchase live or fake garland to decorate your home. You can hang garland on the front porch, any railing, or even on or around the garage door. You may want to drape it in a pattern; get creative! Garland can also be decorated with lights and bows to make it even more beautiful.
5. Decals
Decals are a great way to decorate your garage door or home's siding without fear of damage. These stickers can be applied directly to the surface and will peel off when you need to remove them. Choose from large decals of Santa Claus and Christmas trees to smaller ones like snowmen, reindeer, snowflakes, and more!
6. Lights
Lights are easily the most popular Christmas decorations. If you want to decorate your front door or garage door with lights, you can line the frame. We recommend that you don't place any lights on the door itself because they may get caught when the doors are moving.
7. Use a Projector
A projector is a great way to create your own home show! It's also harmless to your home's exterior and can be turned on and off at your discretion. You can even add music to match with the show.
8. Fake Snow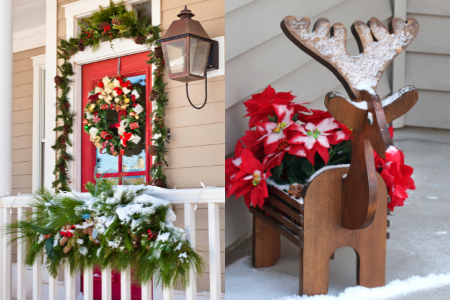 If you live in a warm place, you may not see much snow. That's what fake snow is for! Stick it to the porch, front walk, and garage door to create a winter wonderland at home.
Go Festive! It Will Be Beautiful!
Don't be afraid to go all out this holiday season to make your home's exterior beautiful. Become the house kids love to drive by slowly and marvel at your decorations. We hope these tips inspire you to decorate your home this Christmas!