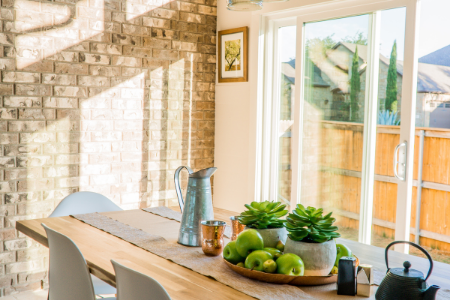 The year 2020 has brought highs, lows and a ton of different trends in fashion, retail and home design. But with 2021 on the horizon, interior design experts are predicting some trends stick around while others stay behind. Check out five home design trends that you can expect to see coming into the new year.
1. Making the Old, New Again
This year you can expect that many of the styles seen in interior design are actually styles from other eras that are making a comeback! As many people are looking for a little bit of nostalgia in their homes, Victorian-era and Art Deco have risen in popularity. Although modern design and clean cut interiors still reign supreme, traditional and historical design can be seen in smaller details or pieces throughout the home, such as floral prints and vintage furniture.
2. Warming Up
Coming out of 2020 and into a new year, many people are looking to warm up their home with comfort and coziness. Color is a great way to do this. Earth-tone and warm neutral colors are great options to add in with pillows or throws. If you are looking to do a major makeover, painting an accent wall is a creative way to bring warmth and personal style into a room without overdoing it.
3. Separate but Together
Working from home, virtual learning, game nights in…whatever the case may be, the fact is our home has become an office, school and entertainment center all in one this year. This sometimes makes it difficult to enjoy open floor plans that are popular in newer homes. You may see a shift in new builds for 2021 that includes more closed off floor plans and separate spaces so that everyone has their own space to enjoy under one roof.
4. Cleanliness and Sustainability
The top priority in many of our minds this year was cleanliness. Wanting ourselves and our homes to stay healthy, having surfaces and fabrics that are easy to clean and disinfect are a must-have. This is most easily done in the kitchen area. From tables, cabinets and utilities, the kitchen is an active and high-touch environment in the home and will be a focus when looking for wipeable and stain-resistant pieces. Another design trend that has been around for the last few years and will continue is sustainability. Instead of lower quality and cheaper furniture, many homeowners or renters are filling their spaces with earth-friendly and high-quality pieces that last longer so can keep for years to come.
5. Bringing the Outdoors In
Like we mentioned earlier, lots of us are spending more time indoors, so this trend may not be very surprising. Plants, natural light and outdoor furniture materials are coming inside! The vibrant green of house plants not only brings color but brings an extra lightness and airy feeling to the room. Windows and natural lighting will be a large part of home design going forward, especially in rooms where your family may be working or learning, since natural lighting promotes productivity. Lastly, wicker, ceramic and light-toned wood will continue to be utilized in furniture and decor design to bring a more natural look into the home.
Whether you are getting ready to redecorate your current home for the new year or are in the process of designing your dream home to move into, take these 2021 trends and make them your own!
Please follow and like us: