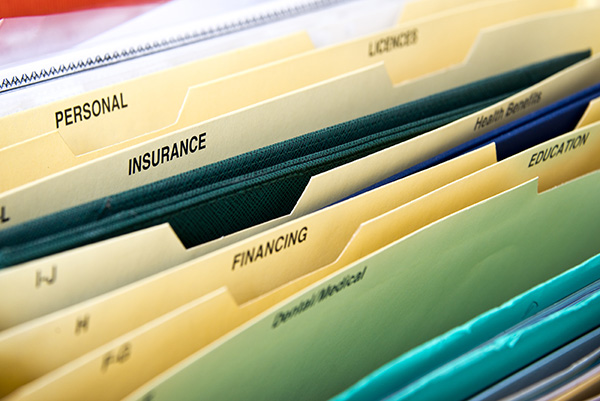 During the home buying process, you'll be working with a range of professionals, including a real estate agent, loan officer, home inspector, appraiser, and a lawyer or representative from a title company. And while you may need to divulge some very personal information, like your annual income and debt history, not all of these people need to know the intricate details of your life.
However, knowing what kind of information you should be prepared to share at various stages of the home-buying process will eliminate some of the guesswork and stress associated with this major life event. Plus, you can get a head start and begin the documentation gathering process now.
What real estate pros need to know
The typical home-buying experience begins with pre-qualifying for a home loan, during which you'll be working with a loan officer or mortgage loan originator. Out of all of those professionals, your loan officer will probably require the most information.
Here are some things that a loan officer might require:

Information
Documentation
Personal information
• Full name
• SSN or SIN
• Current address and residential history
• Legal issues
Driver's license, passport or state-issued ID
Social security card / Social insurance number
Landlord names and contact information (or letters showing positive rental history)

Copy of divorce decree, documents detailing any
financial obligations not included in your credit report

Financial information
• Annual income

• Personal assets

• Credit
• Debt and debt history
Paystubs, W2s and federal tax returns (for US residents), proof of income statement from the Canada Revenue Agency, and any paperwork indicating other sources of income, such as alimony and child support payments
Bank and investment account statements, asset statements for stocks, bonds etc., documentation for current real estate holdings
Credit report
Credit report and paperwork for debts not included in report
Proper documentation helps to provide a complete picture of your financial standings, avoid any errors or confusion and speed up the loan approval process.
Once you've been approved and start working with a real estate agent or a buyer's agent, your agent will simply need to know your budget, what you're wanting in a home, and any needs as they relate to your lifestyle.
Safeguarding confidential information
Mortgage professionals and real estate agents have strict professional standards when it comes to handling personal information and preserving confidentiality. Mortgage Professionals Canada and the National Association of Mortgage Brokers (NAMB) both protect information arising from professional relationships with clients, noting that their members cannot divulge this information without the express authorization of said client, or as required by law. Similarly, the Canadian Real Estate Association and the National Association of Realtors promote the privacy rights and interests of consumers, and have specific guidelines around data security and the handling of private information.
If you have any privacy or security concerns, ask your loan officer and real estate agent how they handle confidential information and who in their office has access to it. CEO of NAMB, Don Frommeyer, adds, "It is a good idea to ask your lender how they will handle your personal information and what do they do with it once they have completed your loan."
Most real estate professionals have formal security policies in place, in addition to having to follow industry standards, ethical codes and the law, but asking about their common practices and security software also should help put your mind at ease.
Precautions that you can take
As a consumer, there are several steps you can take to protect your information, as well. At home, make sure you have a firewall, antivirus and anti-spyware software properly installed and running. Check your wireless network and browser security settings to make sure any networked data is protected.
If you store any private information on your computer or external hard drives, consider encrypting it first. And if you have to share any of this information electronically, be sure to use encryption software before sending it to the recipient (but don't include the password in the message, send it separately). Note that public networks and Wi-Fi hotspots are not secure, so try to avoid sending or accessing any private information on such networks, unless you have a personal virtual private network (VPN).
Working with trusted professionals with whom you are comfortable lends itself to good communication and a stress-free transaction. Be sure to talk to your loan officer or real estate agent about any privacy concerns or questions you may have, because not only are they your best resource, they're also your strongest ally.