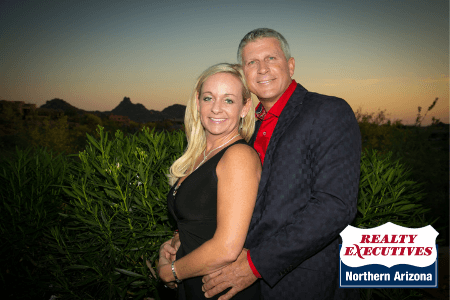 Gary Denton-55 and Kathleen Denton-47 may be empty nesters, but they are in no way retired. In fact, their motto, "work hard, play hard" may persuade you to believe they may never actually retire. Gary and Kathleen both graduated from Arizona State University, but they did not meet there. It was not until they were both in their professional careers that their paths crossed. Kathleen has been a Real Estate Agent for the last 20 years. And at the time they met, she was Gary's Realtor and property manager of some investment property he owned. They married in 2009, have three adult children Alex-30, Jay-28, and Sophia-24 and two grandsons Cooper-3 and Rhett-2 from their son Alex and his wife, Felicia. As a Realtor, Kathleen works for Realty Executives Northern Arizona in Prescott. She specializes in all of Yavapai and Maricopa Counties and would love to be the number one choice for anyone selling or purchasing a home. Gary built and operated a heavy highway construction company and retired after 20 years. But as I said earlier, their motto would lead you to believe they may not truly retire!
Gary and Kathleen founded a nonprofit 501(c)3 in 2015 called the Wheels of Freedom Project, where they provide powered wheelchairs and power scooters free of charge to disabled Veteran & Veteran families that either do not qualify via the VA or private insurance and cannot afford a powered mobility device. Wheels of Freedom Project started after Gary wanted to give back, so he found an older electric wheelchair that was going to be thrown out. Gary fixed it up and contacted the local Veterans Affair (VA) and Veterans of Foreign Wars (VFW) to look for a candidate. The VA and VFW came through and introduced Gary to a Veteran that did not qualify. They delivered the chair, and it changed the Veteran's life. After that, Gary and Kathleen created a Facebook page, and people started to contact them about electric wheelchairs sitting in storage or a garage that were not being used. Thus a nonprofit is born! This charitable foundation shows the "work hard" part, although Gary may argue it is actually the "play hard" side. In 2015 Gary and Kathleen moved to Pronghorn Ranch to escape the Phoenix heat and be part of a small town. This allowed them to give back to their community through their charity.
Originally published in Neighbors of PV North. Written by Kathy McGee .