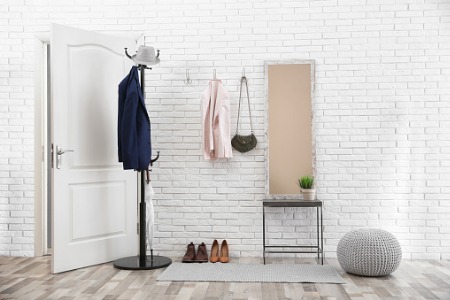 A welcoming and well-organized entrance will make your home feel inviting and set the tone for the rest of the home. But with the need for storage, seating and decor, what design concepts best fit your home entryway?
Open Concept
If you open you door to a large and empty space, it's a good idea to take advantage of the open space but carve some clearly defined zones meant for specific purposes. Adding a large bench or sofa against your sofa can help define the entrance. Another way to make your own entry is to put a piece of furniture used to hold scarves, jackets or other outdoor accessories next to the door. This way your guests and yourself can enter the home and know what that space is intended for.
Efficiency
Maybe you have the opposite problem of an open concept and your home has a very small space for guests to put their belongings. This is when focusing on efficiency is important. With lack of floor space, use the walls to put up some deep shelves and coat hangers. The shoes can be easily put on the shelves and you make the most room for people standing. Another great tip for making any room feel bigger- add a mirror!
Fun and Funky
Having a place where you can sit and take off your shoes is essential in many homes. This seating is a great way to start showing off your unique style that is carried throughout the rest of your home. A patterned bench, a funky shaped chairs or soft sofa cushions are all fun ways to morph personality and functionality.
Hardworking Floors
Large families or homes with young kids may not get the chance to focus on style and instead need a room that is functional and durable. Installing tile, if your home doesn't have it already, may be a big investment but it is definitely worth the pay off. Busy households are going to want floors and features that are easy to clean and weather resistant. Another design tip would be to put distressed furniture in the room. This way any nicks or scrapes will escape unnoticed by those coming and going.
No matter the purpose or personal style you want to add to your entryway designs, there are different ways to welcome guests and feel at home the moment you get back from a long day.