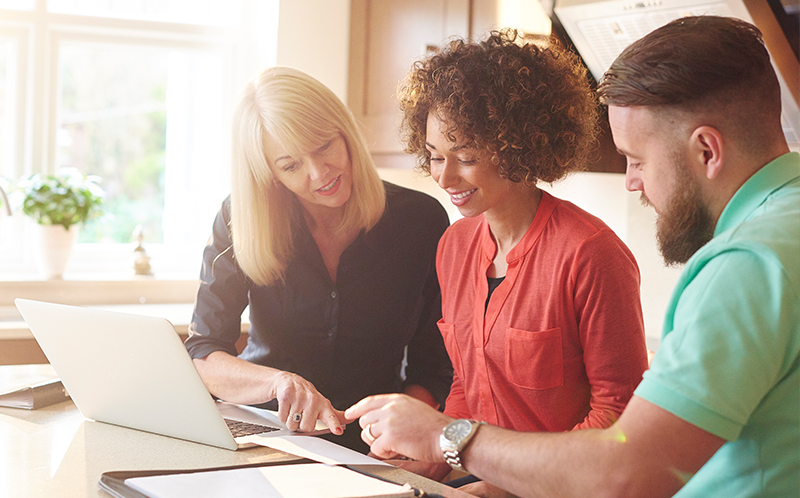 Is it time to purchase your first home?  Owning your own home may offer many advantages including building equity, qualifying for tax deductions, and having a place to call your own. It also requires a level of financial and emotional readiness.  Evaluating your position in each of the following categories can help guide you as you make this important decision.
Monthly Finances
Purchasing a home is a big financial decision. In addition to making mortgage payments you also have to factor in additional costs such as taxes, homeowner's insurance, homeowner's association fees, city assessments, and household repairs. Mortgage companies use a debt to income ratio (DTI) to determine loan eligibility.
The debt to income ratio involves taking your total monthly debt payments and dividing it by your gross monthly income. In most cases, 43% is the maximum DTI you can get approved for a qualified mortgage. However, many financial experts agree that the recommended number should actually be closer to 36%. This gives you added room for fluctuating income levels and unexpected household or life expenses. Paying off credit card debts, auto loans, and student loans can decrease your DTI and bring it to a more comfortable number.
Immediate Payments
In addition to considering the monthly mortgage and maintenance costs, is also important to consider the immediate costs of purchasing a house. In order to close on the sale of a house, you will have to pay additional fees like inspection, down payment, and closing costs. You also have to factor in moving costs and any needed repairs before moving in.
Credit Score
Credit score is just one of the factors considered when applying for a mortgage. While an approval will allow you to take out a mortgage, it does not necessarily mean that you are ready to purchase. Lower credit scores can qualify for lending, but at much higher of interest rates. Higher interest rates can significantly increase your monthly payment. Improving your credit score can help prepare you for purchasing a home at a monthly payment that you are comfortable with.
Ability to Complete Maintenance
Homes require preventative maintenance and regular upkeep. Some of these preventative tasks can be completed on a DIY basis, while others are best left to a professional. Either way, it is important to know how to handle a housing emergency. Do you know how to handle a leaking pipe? Do you have the available resources to quickly fix a household problem? Responsibilities of homeowners differ from the maintenance responsibilities of renters. Having a savings and emergency fund in place for home maintenance is a proactive move. Your real estate agent can often help connect you with professionals in your area to help keep your home at its best.
The Commitment
Purchasing a home is a longer term commitment compared to renting. The home is financially and legally tied to you, and while this can bring incredible benefits, new responsibilities also come with the decision to buy a home. If you decide to later sell your home, your real estate agent can help you list your home and evaluate purchase offers. It's important to consider that the real estate market fluctuates and market conditions will impact your home's re-sale price in the future.
Canadian residents also have different ownership choices, which might be more suited to fit specific commitment needs. While freeholds are the most common type of buying choice, leaseholds allow buyers to lease the land the house sits on. Mortgage co-operatives are also another option that allows buyers to purchase a share within the building.
Some professionals suggest not purchasing a home unless you plan on staying for a minimum of five years. Additionally, having a secure job that you are committed to is also a factor. You establish the size, cost, and type of the house you purchase based on your current income. If you are changing careers frequently or your job is not reliable enough, this can make it difficult to plan for homeownership.
Choosing the Right Home
If you have evaluated your readiness to buy a home and have decided that you are ready to move forward, it important to choose the right home in the right price range. Choosing a house within your budget will allow you to make payments comfortably without neglecting other important parts of your life. Many homebuyers prioritize homeownership over other expensive purchases like cars and vacations.  But stretching your housing budget too far could lead you to resenting your purchase.  Your real estate and mortgage professionals can help equip you with information and resources to make an empowered choice.
Purchasing your first home can be a rewarding and thrilling experience. Jumping into home ownership before you are ready can have adverse effects to your finances, credit score, and life goals. It is necessary to evaluate each of the components involved in purchasing a home and ensure that you are ready to take on the responsibilities along with the rewards of buying your own home.
This post is intended for informational purposes only and should not be taken as professional advice. The point of view and opinions expressed in this post are those of the author and do not necessarily reflect the position of Realty Executives International.
This post was written for Realty Executives by Heather Hardy. Heather is an avid writer who has contributed to numerous blogs and internet news sources.  While she writes on a variety of topics, her specialties include real estate, home improvement, and travel. After obtaining two degrees, Heather has found her passion in writing content that improves both readability and knowledge.