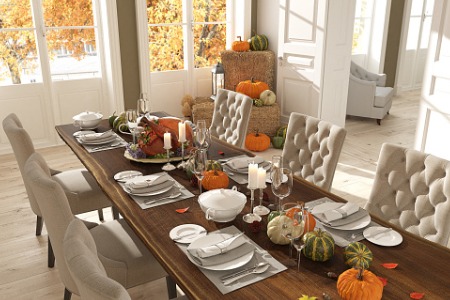 Fall is full of beautiful colors, crisp air and bountiful tables, making it the perfect time to put together some fall table settings to enjoy the season.
Pumpkin Craze
We all know how pumpkins are the talk of the town when summer comes to an end. Not only are they great for cooking and carving, but they also make for great table decor. You can use real or fake pumpkins as a classic centerpiece that can also be made modern. Many people will buy small plastic pumpkins and paint them white, black or metallic, to match their own personality and give a unique twist on a traditional piece.
Crimson and Florals
We often see orange, red, brown or cream when it comes to fall, but the season is much more colorful than that! Try adding crimson floral pieces or crimson place settings to your table in order to give a richer feeling and stand out from the crowd. Crimson is also a great option because it can be paired with neutral and bright colors, depending on the atmosphere you are trying to create.
Apples and Orchards
Besides the pumpkin, another food that gets a lot of attention around the fall season is apples. From apple cider to bobbing for apples, this fruit is a seasonal favorite, so why not use them in your table setting? You can take bright red apples and place them in clear containers, on tiers or just on the table itself to make a great presentation. To add to the look, use some tree leaves or wooden place settings. 
Wheat Stalk
Wheat stalks add a lot of texture to a table and are a neutral color so they can go with almost anything! You can easily find "real" looking wheat at any craft or home decor store and make it your own to make it match your fall theme. Different heights of the stalks can also make for a great visual by adding dimension and different sized holders to the table.
Bowl of Thanks
During this time of year, we often try to be grateful for all the blessings we have in life. A great way to display this tradition is having your family or close friends write down just one or a few words describing what they are thankful for and then placing them in a large bowl, used as your centerpiece. You can fill the bowl with foliage or large fall staples such as gourds, acorns or wood pieces and place the written pieces on top for all to see.
As you sit around the table and take in your hard work and elegant table, enjoy the time with family, friends and good food- which is what fall is really all about!