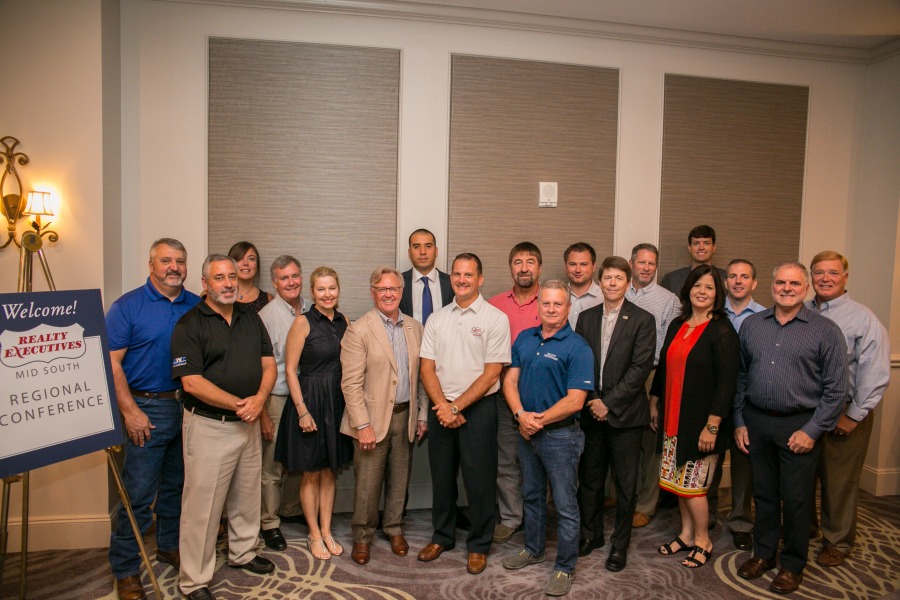 Realty Executives Broker/Owners and Executives across the Midsouth Region came together August 21-22, 2016, at the Ritz Carlton New Orleans in Louisiana.  With over 80 real estate professionals in attendance, the event brought together more than a dozen brokerages across the Realty Executives MidSouth Region, representing Alabama, Mississippi and Louisiana. Director of Franchise Development Drew Rambo and Regional Developer Randy McKinney also welcomed a number of Broker/Owners outside of the MidSouth Region hailing from Florida, Illinois and Indiana to their annual learning and networking event.
Realty Executives International President Rich Rector and Vice President of Training and Product Development David Celaya were on hand to share the latest in-house developed marketing automation tools with conference-goers. Networking opportunities and a top producer panel rounded out the event, which also generated over $2,700 in support of the Louisiana REALTORS® Disaster Relief Fund and the REALTOR® Association of Acadiana, to aid nearby areas that experienced historic flooding the previous week.
Heading up two new offices in the hub of the greater New Orleans area, Kim Higgins, owner of Realty Executives NOLA, was among the region's leaders taking part in the event. Serving buyers and sellers on both the Northshore and Southshore, Realty Executives NOLA has two fast-growing branches at 515 N. Causeway Blvd. in Mandeville, Louisiana, and at 4532 W. Napoleon Avenue, Suite 104 in Metairie, Louisiana.
"Kim Higgins is an award-winning real estate professional with more than 10 years of industry experience, and we are proud to have her on the leadership team," said Drew Rambo.  "The networking opportunities presented at the conference ramped up our efforts to increase Realty Executives' market presence in Louisiana, through strong collaboration between brokerages. The meetings also provided agents throughout our region with the opportunity to experience the complete Realty Executives digital tool-set now at their disposal."
"It's all about saving time previously spent on marketing tasks, so that our real estate experts can spend more one-on-one time with their clients," explained Rich Rector. "Now more than ever, buyers and sellers need our Executives to help guide them through online listing data and information to make well-informed, strategic real estate decisions."
The proprietary Realty Executives digital marketing tool-set gives Executives the opportunity to take advantage of innovative, automated, easy-to-use, and inexpensive tools so that they can accomplish marketing tasks quickly and easily manage and follow-up with consumer interactions and requests.
The Realty Executives MidSouth Region is headquartered in Gulf Shores, Alabama. The office can be reached at 251-949-5000 or via email at MidSouth@RealtyExecutives.com.
Image credit: Rebecca Ratliff.  Photo courtesy of  Realty Executives MidSouth.