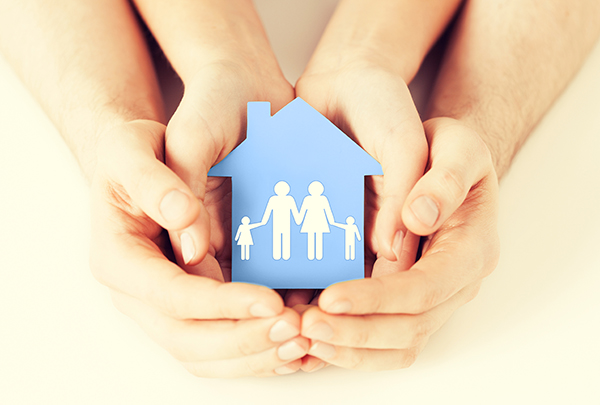 When you're selling your home and your house is on the market, it's almost inevitable that strangers will enter your house. Even if you don't host an open house or showing, there may be strangers coming in and out to appraise your home, do renovations, clean the house or perform other necessary jobs related to the sale of your house.
Although the vast majority of these folks will be well-intentioned potential buyers, you have no way of knowing for sure who is and is not targeting homes for sale for all the wrong reasons. The good news is, you can take precautions in order to keep your home and family safe. Here are a few things you can do to protect your home and family:
De-personalize your home
Remove all family photos, diplomas, kid's drawings and other display items that may inadvertently give away personally identifiable information. For example, while a school photo may seem innocuous, it could give away information like what school your child goes to, what sports they play, or what grade they're in – all of which can be used by a stranger to potentially track down and approach your child.
Check all of the walls, shelves and display areas of your home to be sure you've cleared the house of all such items to help keep your family life private.
According to home staging expert Darlene Parris, depersonalizing your home also allows buyers to "picture themselves making their new home out of your home for sale," so you'll be helping to make your home more presentable to potential buyers too.
Speaking of photos, taking pictures of each room before and after showings is also recommended. This should help you quickly identify any out of place or missing items, especially for children's rooms, since kids may be less likely to notice if things have gone missing. If necessary, they can also be used as evidence for a police report or insurance claim.
Protect your confidential information
Things like prescription medications, checks, or bills and letters that contain confidential information should be locked away or removed from your home completely. Don't forget to check your trash as well, especially if you don't shred your bills or take special precautions when it comes to sensitive data.
And be vigilant; monitor all of your accounts for fraudulent activity and consider placing a fraud alert on your credit report. In the United States, this can be done by contacting one of the three major credit bureaus and is free of charge.
"An initial fraud alert can make it harder for an identity thief to open more accounts in your name. When you have an alert on your report, a business must verify your identity before it issues credit," according to the Federal Trade Commission.
In Canada, report fraud to the Canadian Anti-Fraud Center by calling them toll-free at 1-888-495-8501 or by using their online reporting system.
Secure your devices and other valuables
Computer security expert Avi Rubin warns that "anything that has software in it is going to be vulnerable" and can be compromised, so tablets, phones, memory drives with personal data or any electronic devices that are connected to your email and social accounts should be removed from the house completely.
Your smart TV or refrigerator could also make you vulnerable to more tech-savvy criminals.
"Attacks such as those launched by smart TVs and fridges do not at this point threaten people's lives. However, they do compromise people's privacy insofar as they reveal information about victims that they might not otherwise want disclosed," says security journalist David Bisson.
Upgrade the password and login information for all of your devices, and consider installing locator apps on all of them as well.
Other valuables like family heirlooms, jewelry and fur coats should also be locked away in a safe, safety deposit box or other secure location.
Talk to your agent
Ask your real estate agent to walk you through what they do during an open house and go over the details of the safety procedures that they follow. Check to see if they keep a visitor's log, whether they use a lockbox to store your house key and how often they change the code, etc. Suggest enhancements if you're unhappy with any of their policies.
"As an industry, we collectively work very hard to promote safety awareness among our members," says Chris Polychron, president of the National Association of Realtors.
Real estate agents are particularly knowledgeable when it comes to safety and will have your best interests at heart as well, so an honest conversation voicing any concerns will be beneficial to both parties.
In case of emergency
If there is an incident at your home, or you suspect theft or vandalism, call the police immediately. The police should also be able to work together with your real estate agent, using visitor logs and other information gathered during showings.
You can also go online to create an emergency or safety profile to help expedite the information gathering process when you dial 9-1-1. Tools like Smart911 allow you to create profiles with information about your home and family that may be valuable to first responders.
"Even the simplest of details can help our officers during an emergency," says Sgt. Brent Kock of West Des Moines Police. "From knowing the access points to the home, whether there is a pet we need to be aware of when approaching or entering the home, or just knowing the name of the person in distress can enhance the safety of our citizens and our officers."
Check with your city or local police department to verify which tools or apps are available in your area. For example, in Toronto the police have an app that allows users to file damage to property reports, amongst other things. Edmonton and Ferguson also have similar apps.
Taking practical steps to eliminate any opportunities for wrongdoing is the best place to start. Work with your real estate agent to establish an action plan, and maintain an open channel of communication so you can alter the plan as needed.