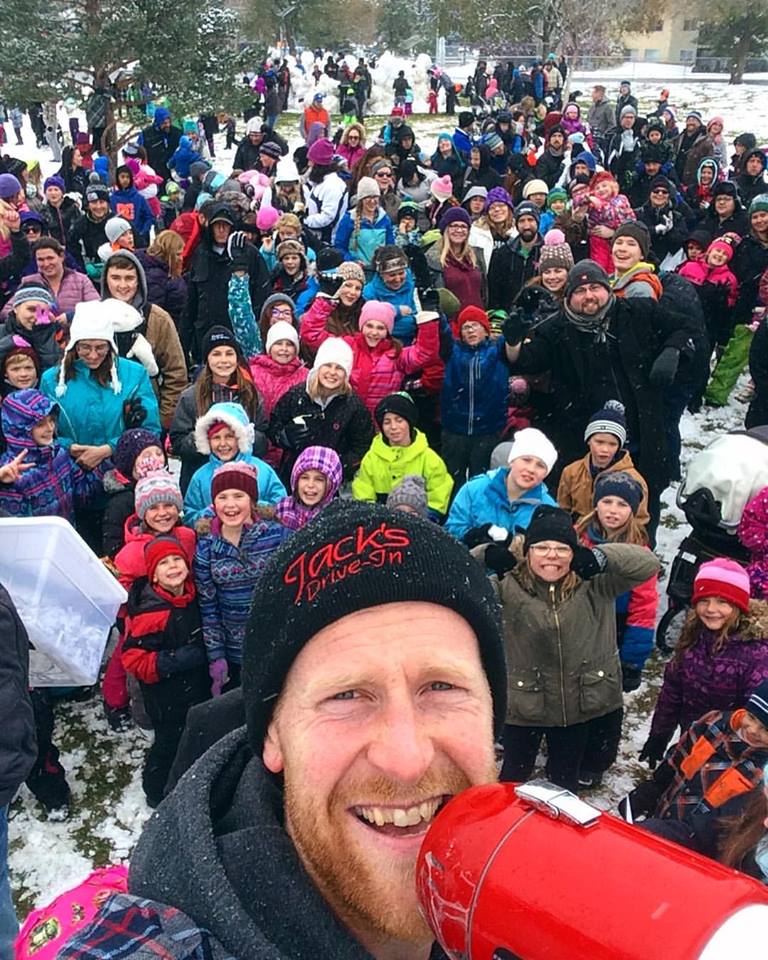 Realty Executives agent Ben Loates was trying to come up with ways to keep his four kids occupied on a Saturday when he came up with a great idea: A park crawl. Meet up at a park with family and friends, rake some leaves and jump around in them, grab a snack, and then pack up and move on to another park where they'd do it all over again.
He decided to make a video and post it to Facebook, inviting his neighbors in Spruce Grove, Alberta, to rise to the challenge.  Four parks, 30 minutes at each stop, with free food and prizes donated by local business. He called it The First Annual Spruce Grove Fall Park Crawl.
To his surprise, the video went viral.
"The response was overwhelming," Loates says. "In just 36 hours we had reached over 25,000 views. Keep in mind Spruce Grove is a city of only 30,000. On the Facebook event page 300 families confirmed they were coming, with over 400 saying that they were interested."
Local businesses did not disappoint either, donating almost $8,000 in gift cards and prizes.
"My favorite local business stepped up in a huge way," shares Loates, adding that they managed to collect it all in just under two weeks.
Despite the rush, the event was a huge success. Loates estimates that there were 200 to 300 people at each stop and even the mayor, Stuart Houston, turned up for the event.
"It was amazing! Snowmen all over the place, a giant 6-foot-high fort erected in under 10 minutes at the next stop, a man-made a slide out of snow at the next one, and so on," he says.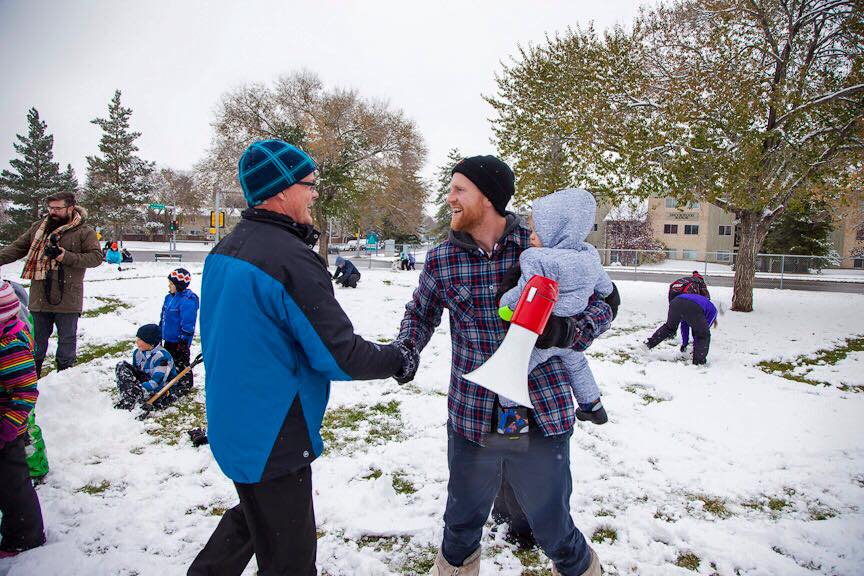 "Probably the most amazing thing was seeing and experiencing the warmth of complete strangers coming together, smiling, playing, building and participating. It was the true definition of community," he reveals.
The Fall Park Crawl also ended up doubling as an awareness event for a pediatric autoimmune disorder, PANDAS syndrome, after Loates learned about a young boy who suffers from the illness.
"A couple of days before the event I got a heart-wrenching Facebook message from Pam, Gavin's mom. It was just so touching and special, I knew that it wasn't meant just for me," says Loates.
Pam shared that her 10-year-old son suffered from the rare disease and had an anxiety toolkit to help him deal with the stress of hospital visits. She asked Loates, who is also a professional skater, if he would sign it because Gavin was his number one fan and considered him a hero.
"The moment I got the message I called my friend Jesse Martineau and said, 'We have to do something big for this kid.' So, I signed one of my pro boards and surprised him in front of 300 people. I called him up, told people about the disease and gave him the board. And then, my favorite part, we slow chanted his name and told him we were all behind him and to never give up," adds Loates.
Martineau, a photographer, filmed this and the entire event, the result of which is an inspiring and heartwarming video. Commenting on the potential impact of one crazy idea, he says, "Something tremendous can happen. Let's never forget that."
Loates plans to host another park crawl next year, and in the meantime, he'll continue to be active in his community, teaching music and skateboarding, and spending time with his wife and kids when he isn't selling real estate.
Ben Loates is a REALTOR® with Realty Executives Realty Executives Leading. For more information, visit his agent profile online or follow him on Facebook.