A lot of practical yet stressful work needs to be done when buying a home- such as paperwork, dealing with banks, getting a mortgage approval, etc. As a result, it is easy to forget that home buying is also a significant emotional labor. There can be fear and doubt, which is expected because buying is a significant financial decision. It is also exciting and symbolic of a new beginning in someone's life. This is especially true for people who are buying their first home.
Don't let nerves stop you from fulfilling your goal of buying your dream home! Read on for soothing tips for anxious first-time home buyers.
Quick tips for anxious first-time home buyers
Here are a few simple yet calming tips:
Accept uncertainty and bumps in the road
Write it down
Surround yourself with support
Hire an experienced real estate agent
Be patient
Accept Uncertainty
Anxiety makes us overthink and imagine possible scenarios, often the worst-case ones. That can be really frightening and emotionally draining for a person. In this case, the solution is letting go. No one can tell you precisely what will happen with 100% certainty, not even the most experienced real estate agent. It's simply impossible. The real estate market is constantly changing, and you can't always keep up. But instead of looking at that as a problem, try to maintain a relaxed attitude. It can be freeing to stop trying to figure out every detail that is going to happen. The best thing you can do is ensure you have done everything in your control. You have taken the steps for mortgage pre-approval, hired a real estate agent, and know what you want. Rely on the real estate and mortgage experts to help facilitate the buying process.
Write Down Your Thoughts
Our anxiety can make us feel like we are doing everything wrong. In some severe cases, home buyer anxiety can be so bad that it turns people away from purchasing. But this does not need to happen to you; there is a way to combat it. The way to do this is through logic, but it can sometimes be hard to calm emotions and turn on the rational part of our brain. In this situation, it is helpful to write it down. Take a piece of paper and write why buying a home is excellent and suitable for you. Things like:
You are in a good place financially
You want to start a family
You have support
These affirmations are necessary because they are true, and your anxiety makes it hard for you to see them that way.
Talk to Your Family and Friends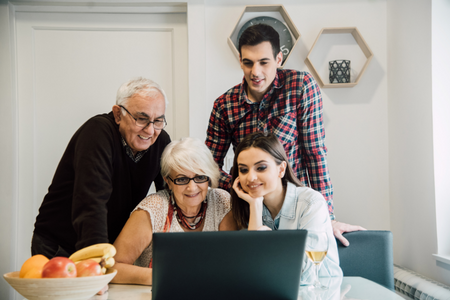 Anxiety is often directly tied to self-doubt. That is often the case when people buying their first home are very young. They get overwhelmed by the fact that home buying is a huge financial undertaking and don't believe they know what they are doing. Overcoming self-doubt is hard, but don't let it consume you. If you don't trust yourself, you should seek support from your friends and family. They will tell you why this is good for you and why you should do it. Your support group will calm your anxiety and make you see more realistically. Sometimes you need to hear it from someone else to believe it's true. That is a prevalent feeling amongst first time home buyers, and many shared that the support of their families and friends helped them through it.
Hire Professionals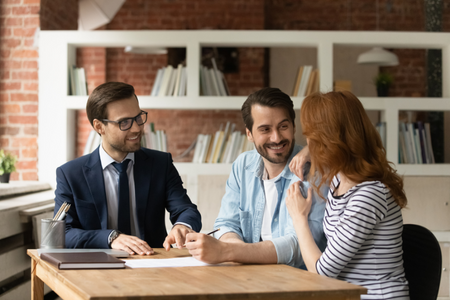 If you are feeling anxious and confused about this process, a good course of action is getting a professional to guide you. That is one of the best tips for anxious first-time home buyers. The home buying process for first timers is much easier if they have an experienced real estate agent. Real estate agents will explain all the essential details to you and answer any questions. A good real estate agent is a skilled negotiator, knows the local real estate market, and is excellent at communicating with clients. The key is to be clear when communicating with your real estate agent. Tell them everything you are worried about and what you are looking for in your new home. Having some experience to guide you through this is helpful for calming anxiety.
Be Patient
Anxiety can also stem from the fact that you have been trying to find the perfect home but still haven't succeeded. This is normal- just ask other people who have purchased real estate! You may not find the perfect property in the first days and weeks of your search. Some people have waited for months, depending on inventory and market conditions. Do not let your eagerness push you into settling for a property that does not match your needs. Buying a new home is a considerable investment that will last a long time, sometimes a lifetime. It is worth patience and waiting until you find the right home for you and your family.
In Conclusion
Home buying anxiety is extremely common, and you are not alone in this feeling. It is completely normal to be a little spooked when doing something as big and important as this. After all, many people only buy a house once or twice in a lifetime. Needing help is understandable for both the technical tasks and the emotional journey you are going through. Hopefully, these tips for anxious first-time home buyers were helpful to you. Just remember to be patient! You deserve to get the home of your dreams. Good luck!