Before putting a house on the market, it is essential to consider the housing market's current state and understand how to make your property more attractive to potential buyers. The right home decorating tips can help you showcase your home's unique features to increase its visual appeal and your chance to receive offers.
A well-designed and decorated home looks comfortable and creates a warm, inviting atmosphere that potential buyers will find attractive. Or put differently, one surefire way to make your house stand out in the market is by making sure it gives its potential owners a feeling of coziness and safety, something everyone desires in a home.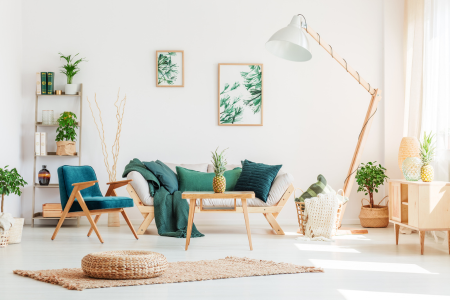 One of the best ways to make a home attractive to buyers is by decorating it with your heart. Do not be afraid to use colors to highlight the house's architectural features. Interesting add-ons with decor and wall art can make it unique.
Decorating any kind of home can be challenging, given its distinctive construction. Fortunately, regardless of whether your house is traditional or you're listing your modular home for sale, various conventional and modular home decorating ideas can help you create a space that stands out and appeals to a wide range of buyers.
Without further ado, here is what you can do to make your home more appealing before listing it on the market and saying goodbye for good.
Keep It Simple and Neutral
When staging a home, it is important to keep the decor simple and neutral. This is because it allows potential buyers to imagine themselves living in the space without being distracted by bold colors or overly personal decor. In homes, it is especially important to keep the decor simple, as the unique construction can sometimes make the space feel small or cramped.
When choosing colors for your home decorations, opt for neutral shades like beige, gray, or white. These colors create a calming atmosphere and allow potential buyers to focus on the unique features of your home. You can add pops of color with accent pieces like throw pillows or artwork but be sure to keep the overall look cohesive and understated.
Accentuate the Best Features of a Modular Home
Modular homes often have unique features that make them stand out from traditional homes. For example, some modular homes have vaulted ceilings or built-in shelving. When staging your modular home, it is important to highlight these features so potential buyers can see the value in your home.
One way to accentuate the best features of your modular home is by using décor that draws attention to them. For example, if your home has a vaulted ceiling, hang a statement light fixture that draws the eye upwards. If your home has built-in shelving, style it with books and decorative objects that show off its functionality.
Lighting Matters
Lighting is an essential aspect of home decor, as it can significantly impact the look and feel of a space. In homes of all kinds, lighting is especially important, as the unique construction can sometimes make the space feel dark or cramped.
When choosing lighting fixtures for your home, opt for ones that create a warm, inviting atmosphere. This might include fixtures with warm, soft lighting, or fixtures that create a focal point in the room. Additionally, be sure to use multiple sources of lighting, such as floor lamps and table lamps, to create a layered, inviting look.
Bring in Nature
Incorporating natural elements into your home decor is a great way to create a calming, inviting atmosphere. Natural elements like plants, wood, and stone can help to bring the outdoors inside and create a sense of serenity in your home.
When using nature-inspired decor in your home, be sure to keep it simple and understated. A few plants or a piece of driftwood can go a long way in creating a natural look without overwhelming the space. Additionally, be sure to choose natural materials that complement the overall color scheme and style of your home.
Personalize Your Space
Finally, it is crucial to add personal touches to your home decor to make it feel like your own. This might include family photos, artwork, or decorative objects that have special meaning to you.
When adding personal touches to your home, be sure to keep it tasteful and understated. A few family photos or a piece of artwork can add warmth and personality to your home without overwhelming potential buyers. Additionally, be sure to choose items that complement the overall style and color scheme of your home.
Final Thoughts
In conclusion, decorating your home can significantly increase its appeal to potential buyers and make it stand out on the market. By following the tips mentioned above, such as decluttering, adding a fresh coat of eco-friendly paint, and incorporating stylish and functional décor, you can transform your home into an inviting and desirable space that will attract potential buyers and increase your chances of a quick and profitable sale. Remember to keep it simple, elegant, and neutral so that buyers can envision themselves living in your home. Good luck with your home decorating and selling journey!
Source: Realty Executives
Realty Executives Midwest
1310 Plainfield Rd. Ste 2 | Darien, IL 60561
Office: 630-969-8880
E-Mail: experts@realtyexecutives.com