RISMedia's highly anticipated Power Broker Report was published this quarter, and six Realty Executives franchises made the list. Released annually, RISMedia's Power Broker Report ranks the country's top 500 residential real estate firms and brokerages by number of transactions and sales volume. The brokers surveyed reportedly closed 3,453,108 transactions and generated $1,123,494,913,023 in sales volume in 2015.
"This represents a more than $150 billion increase in sales volume over 2014, and nearly 250,000 more transactions—a clear indicator of low inventory driving prices higher," says Maria Patterson, executive editor at RISMedia.
The Realty Executives firms featured include:
All of these brokerages were also featured in RISMedia's 27th Annual Power Broker Report last year.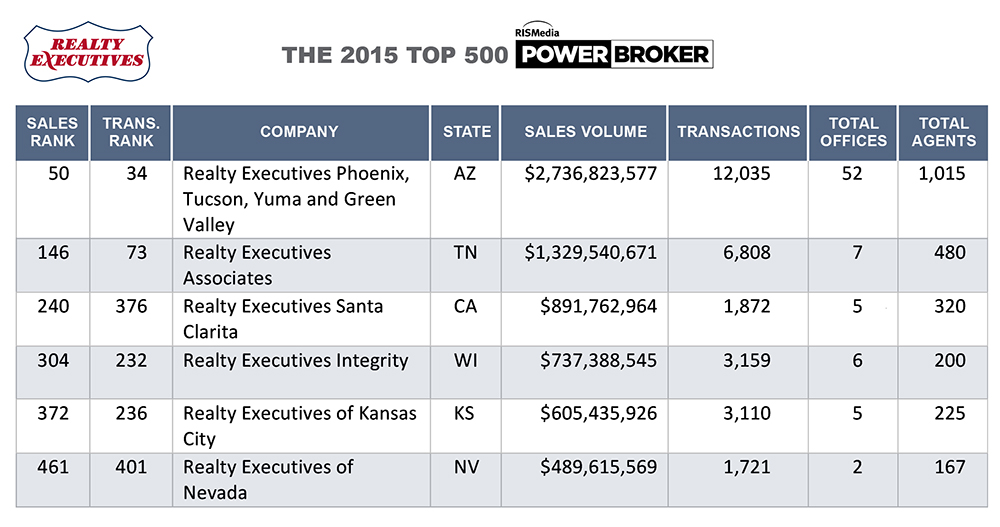 RISMedia coined the term "power broker" almost 30 years ago and continues to be a leader in ranking the nation's top-performing brokers via the Power Broker Survey. For the complete 2015 report, visit RISMedia.com.