UPDATED ALYSIA HEUN - Realty Executives International
It hasn't been said enough, but your roof is a crucial part of your home. It serves as your protection against harsh weather, outdoor elements, and unexpected forces of nature. Your roof also provides good ventilation and helps keep indoor temperature safe and stable. A well-maintained roof also adds curb appeal and value to your home. For these reasons, you need to choose the right roofing materials.
If you have never selected a roof or replaced a roof, you can always consult with a professional roofing contractor. Choose a roofer with vast experience so he or she can help you select the appropriate materials and install it. It's also vital to work with a roofer with roofing insurance-you're guaranteed that they have protection.
Listen to your contractor's suggestions and consider the innovative roofing materials listed below.
1. Cool Roofs
A cool roof uses energy-absorbing/energy-reflecting materials to transfer less overall heat to the home building. They come in light colors to reflect more sunshine than a traditional roof.
2. Fiber Cement
Fiber cement composite tiles are created using clay, concrete, and wood fiber. It is light, durable, and fireproof. You can choose from various colors and textures.
3. Cedar Shingles
If you want to add curb appeal to your home without losing functionality, sustainability, and durability, use cedar shingles for your roof. They are resistant to insects and UV rays, and moss growth is less likely to develop. Cedar shingles are also environmentally friendly as they have a low carbon footprint and are biodegradable.
4. Green Roofing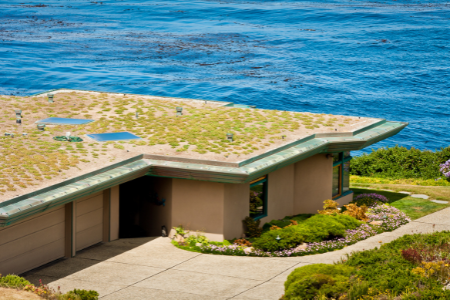 Green roofs are made of eco-friendly materials. Plants and trees are typically planted over them, and this can even be landscaped to increase curb appeal. The plants and trees are added to provide home insulation. A green roof is essentially a rooftop garden.
Green roofs can regulate home temperature, particularly in the summer and winter months.
5. Clay and Concrete Tiles
These are energy-efficient, environmentally friendly, fireproof, and insect-proof tiles that have a lifespan of over 50 years.
Clay and concrete tiles are good for Mediterranean, southwestern, and Spanish style homes.
6. Metal Roofing
Metal roofs are some of the most durable, with lifespans reaching at least 70 years. They are non-combustible and sturdy, even in the worst weather.
Metal roofing is often recommended for cabins, bungalows, and contemporary homes.
These are just some of the innovative roofing materials you can consider when you're ready for roof renovation. Don't forget to call on your favorite roofer to help you with installation!