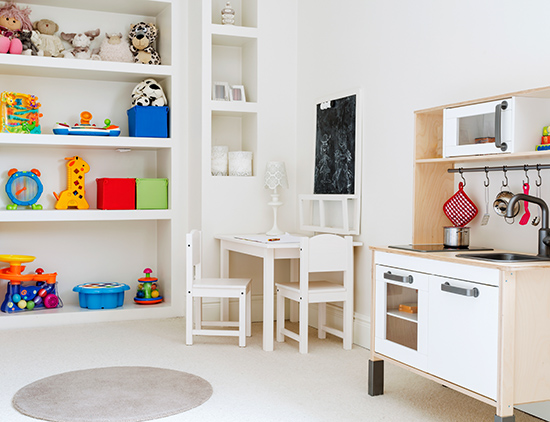 Summer is a prime time for families to move and take advantage of the time away from school. If you're trying to sell a home with a gaggle of children in tow, it can feel like you are juggling a lot all on your own. But did you know that according to the National Association of REALTORS®, nearly two-thirds of all buyers searching for their new home have kids? More than one in six had three or more kids that would be living in the home.
You can embrace your kids' place in your life while also making your home the most universal to potential buyers. Here's how:
Before it goes on the market
1. Clean up everything: Give yourself time to do a deep clean of the home before photos ever go up in your local Multiple Listing Service (MLS). Then, ensure your kids keep their play to certain easy-to-clean sections of your home to maintain that hard work.
2. Make things multi-use: Just because many buyers might have children themselves, doesn't mean that they won't still be trying to picture all parts of your home as multi-use spaces. (Who doesn't want a home gym or office space once the kids head off to college?) If you do stage a playroom, make sure to highlight all the usability of the space to appeal to various buyers.
3. Temper bedroom decor: Racecar beds and ballerina-themed wallpaper can definitely make a kid's day. But a buyer with three boys might have a hard time picturing one of them in a princess-themed palace. Neutral wall colors and tidy décor can help your home feel family friendly for anyone's children.
While it's for sale
4. Make sure you've got timing down: Set yourself up for success by providing ample head's up before a showing to ensure your kids haven't left a skateboard in the front drive or a teddy bear on the kitchen counter. Showings frequently happen on weekends, so give yourself a break and have a hotel staycation or visit to the grandparent's house, so you can fit multiple showings in a weekend without ruffling your children's feathers.
5. Keep your kids involved in the process: While packing up some items in their rooms, let your kids have some say about what they get to keep out versus storing away. This will make the process easier for them. Incentives for helping you keep the home pristine can help, as well. For every week they keep their rooms clean, let them pick Friday night dinner or a Saturday play activity.
6. Find a great real estate pro: It's hard to juggle real life with moving, so don't worry if you can't keep all the balls in the air. A great real estate professional will help you organize the process. Plus, they can advertise your home the right way to bring that sweet-spot buyer right to your doorstep, even with a stray toy in the corner of the playroom.