Each year, Realty Executives International recognizes the leading Executives across our network through our annual awards program. As we celebrate 50 years of real estate excellence in 2015, we're highlighting the achievements of some of our most successful agents, (we call them Executives) sharing important keys to their incredible productivity in real estate.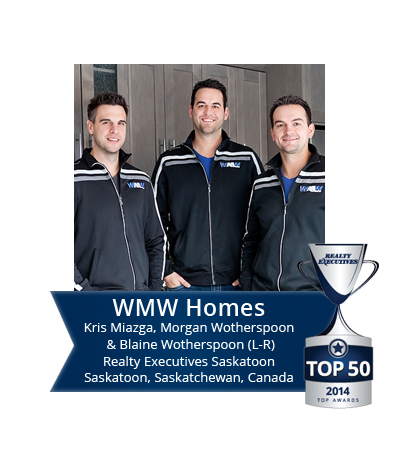 The WMW Homes team consists of three REALTOR® teammates, Kris Miazga and brothers, Morgan Wotherspoon & Blaine Wotherspoon of Realty Executives Saskatoon in Saskatchewan, Canada. Working together since 2010, the trio has scored a host of commission-based achievements and attributes their success to keeping customer service as their top priority.  In the following interview, they tell us why Realty Executives Saskatoon was the perfect match for their entrepreneurial team culture… and share about how clients, (even as young as four years old!) continue to refer friends and family to WMW Homes.

Areas and cities served:
Saskatoon, Warman, Martensville and surrounding areas
What are your specialties and designations?
We specialize in residential real estate. Resale homes, new builds and acreage developments are our main focus.
How many years have you been in the real estate industry? How many years with Realty Executives?
The three of us have a combined 18 years of experience, with 6 years each. We have been operating as the WMW Homes team for almost 5 years with Realty Executives. Morgan Wotherspoon started with Realty Executives from the beginning of his career and his friend, Kris Miazga and brother, Blaine Wotherspoon later joined a year into their real estate careers.
Which factors most attributed to your success in 2014?
We see our real estate practice more like a relational business, as opposed to a one-time transaction based sale. We've developed a business plan and system for our success. Over the years we have changed the original plan, adding to it, and taking elements out as needed — all the while, maintaining growth and keeping up with the latest technology trends. Our main focus, which we rely on hugely, is customer service. We have learned from our clients that customer service is the one attribute they value the most.
Did you have an "aha" moment in life – an experience that made it clear to you that real estate was the right career path for you?
We each left our steady mainstream Monday-Friday careers, and realized that an "entrepreneurial spirit" lied within each one of us. For me (Morgan Wotherspoon) being able to work with your best friend and brother and be successful makes every single day rewarding. I (Morgan Wotherspoon) was told by a mentor of mine, "find something you enjoy and that you're good at, and then find a way to make money doing it." We just sincerely love what we do and are appreciative of this.
What's your Realty Executives story? What led you to Realty Executives?
Leaving the profession of teaching, it was important for me (Morgan Wotherspoon) to choose a brokerage that cared about its people, that cared about its future and its brand. Most importantly, we looked for a brokerage that offered training, education, and coaching to build a solid foundation for a successful real estate agent. After interviewing almost all of the local brokers in the city, it became apparent, that our Broker, Wayne Zuk of Realty Executives Saskatoon, offered everything we were looking for and more. It was an easy decision.
How has your brokerage supported your success in 2014?
The team that Wayne Zuk has built at Realty Executives Saskatoon is like no other. He is one of the few brokers in the city – perhaps the only –- who isn't a Broker/Realtor but instead, Wayne's pure focus is about being a broker and offering education, training, coaching, and most importantly, retention. Our brokerage offers weekly sales meetings, which include up-to-date market stats and trends, the latest news, and other unique information only found at our office. Apart from this, there are weekly and monthly training sessions available to us all. Additionally, there is a huge support staff that assists in marketing and development and conveyancing that is like no other — it is a fail proof system. All of this absolutely contributed to the success of our team. Continue reading →