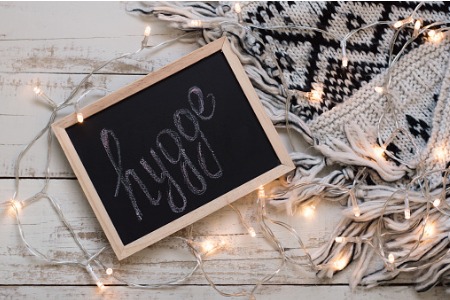 Moving in the winter can be tough, but coming home to an empty or show-ready house can make short, cold days and nights even harder. Enter hygge, a Danish principle that brings comfort and contentment as the essentials to create enjoyment during winter. Pronounced "hoo-ga," it began as a lifestyle to help make Northern European winters more enjoyable, but has evolved into a style trend in recent years. There are some simple and easy ways it can add touches of it to your space without adding more stress to the sale and moving process.
Hygge is all about creating a feeling, atmosphere and ambiance of relaxation by surrounding yourself with cozy things and doing activities you love. Beyond being a winter mindset, it is quickly becoming a trend for both self-care and interior design for good reason, since it can lift your spirits while also incorporating gorgeous seasonal decor.
Even during the stressful process of selling a house or working to settle into a new one, hygge can still help make the winter days pass a little smoother!