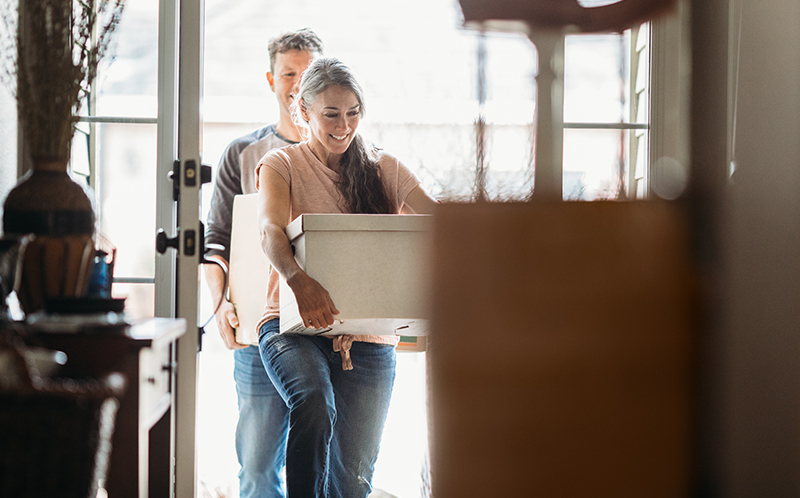 Moving doesn't have to cost a fortune.
In fact, there are plenty of ways for you to save money on your move without breaking a sweat.
Here are seven easy ways to cut your moving costs.
1. Get organized
Simply booking your movers early can save you money.
Then you can save more by helping the move go as quickly as possible for your movers. Use easy-to-see labels on every box and every piece of furniture so your movers know exactly which room to deliver each item to. Tape diagrams of furniture placement prominently in each room so the movers can quickly and easily arrange the furniture properly.
While you're at it, plan to disassemble and reassemble your own furniture to save even more money on your movers.
2. Be resourceful with packing supplies
You don't need all new moving boxes and bubble wrap to move. You just need something to put your stuff in and something to protect it.
Start by collecting all your Amazon boxes. Then consider what you already have. Large trash bags are perfect for clothes and duvets (just label them clearly!). Use your luggage, duffels and reusable shopping bags for anything from books to kitchen utensils. And wrap your breakables in your linens instead of buying bubble wrap.  
3. Borrow instead of rent
Why rent a hand truck when you can borrow one?
The same applies to your moving van. If you have a couple friends with trucks (or you're moving a short enough distance to make multiple trips), you might be able to completely avoid renting a moving van.
4. Pack yourself
Don't pay a moving company to do your packing! No one is going to pack your belongings more carefully than you will.
And if you do your own packing, you're more likely to remember where things are when it comes time to unpack.
5. Shop around
Moving prices can vary greatly from one moving company to another. So get quotes from multiple companies.
And remember: rates are always negotiable. Don't be afraid to ask for a lower price. You have nothing to lose by asking.
6. Be smart about insurance
Insurance is all about planning for the worst. What if your moving truck was in an accident and some of your belongings became a casualty of the crash? Enter insurance.  
First, check your homeowner's insurance policy to see if your possessions are covered during the move. Then see what coverage your movers provide.
It may be worth spending a little money on an insurance policy now to avoid a large potential expense in the event of some mishap.
7. Ask your friends and family for help
A DIY move isn't the easiest way to cut moving costs. But if you can get a bunch of family and friends to help, the money you'll save can be well worth the effort.
Word of caution: if your friends are helping you move, you owe them pizza and drinks. And you have to reciprocate if they ever need help with a move of their own. You've been warned!
This post is intended for informational purposes only and should not be taken as professional advice. The point of view and opinions expressed in this post are those of the author and do not necessarily reflect the position of Realty Executives International. This post was written by Michelle Clardie. Michelle is a professional real estate blogger, specializing in ghostwriting Realtor® blogs. Her engaging content helps real estate agents become more visible online, generate more qualified leads, and increase their revenues. You can learn more at www.michelleclardie.com