A lot of great information was shared at the National Association of REALTORS® (NAR) conference, and one of the conference's most interesting panels was also one of its first: Residential Economics Issues and Trends Forum — Will Housing's Strength Continue into 2016?
Cost, demographics will shape real estate's future
Jonathan Corr, the CEO of Ellie Mae, a tech company that processes as many as 1 in 4 mortgage applications, points to homebuyer demographics and closing costs as drivers of future change.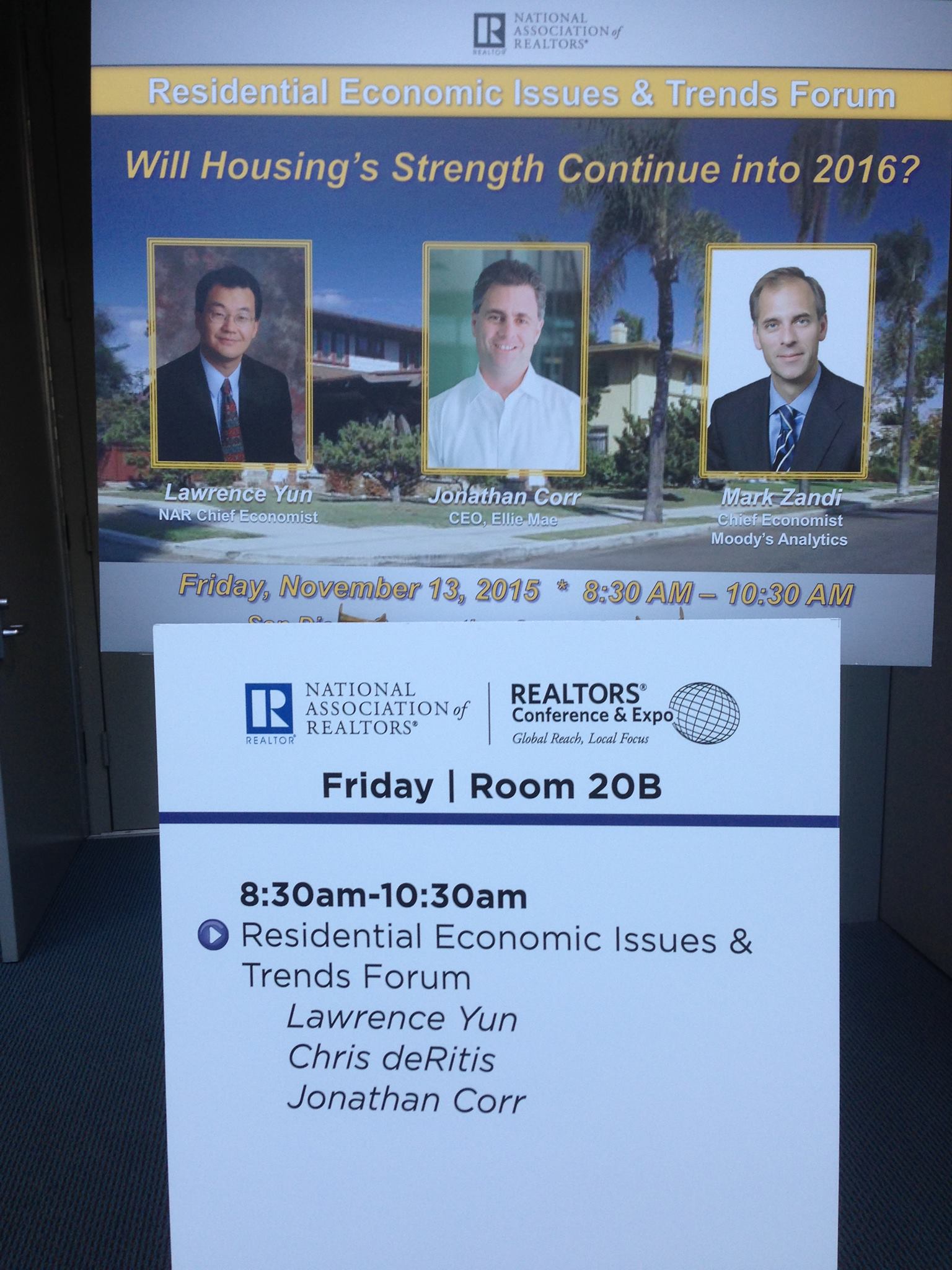 In 2007, the cost to close a loan was $3,400, whereas last year, the cost hovered around $7,000, according to Corr. The increases, mainly due to the Consumer Financial Protection Bureau as well as other regulators, will factor into the real estate deals of the future.
Demographically, Corr said that the more than 80 million millennials — the biggest generation since 76 million baby boomers — will set the pace in real estate.
"They are reachable, but not by old-school means," Corr said. They key? Leveraging technology in tomorrow's transactions. Corr predicts that everything to do with a real estate transaction will be done electronically in the next five years.
But that doesn't mean real estate isn't still a relationship business: it's high tech and high touch as that same tech-savvy population still want to engage with you at important points during the transaction. Customer service will distinguish top performers going forward as it always has, Corr said.
Economic trends in support of housing growth
Cris Deritis, the senior director of consumer economics at Moody's Analytics, a financial services firm and global provider economic analysis, data as well as forecasting, wanted to focus on three positive facts about residential real estate today.
Deritis cited three optimistic areas of growth and change: 1) the labor market — unemployment has dropped from 9.8% in 2009 to 5% in 2014; 2) wage growth — after seven years of stagnancy, wages have been increasing since 2013; and 3) household formation — with nearly a third of 18 to 34-year-olds living with their parents, there are tens of millions ready to go out on their own and with rising rents seeing buying as an affordable alternative to renting in the future.
But the Moody's senior director did temper this optimism with two realities: 1) mortgage credit remains quite tight and 2) student loan debt in this generation is high.
Residential Economic Issues & Trends Forum Presentation: Lawrence Yun
Affordability essential for Millennial homebuyers
The final speaker was NAR Chief Economist and Senior Vice President of Research Lawrence Yun who said that despite lifetime wealth as in personal net worth being at an all-time high, median household income is lower than in the height of 2006. This is directly tied to a hand-wringing statistic: homeownership is at a 50-year low of 63.5%. Yun predicts this number will continue to drop as millennials striking out on their own first have to begin renting before thinking of becoming homeowners.  
That's why, Yun said, first-time buyers are at a 30-year low, because with student debt, low inventory and competition from cash buyers all in full effect, some millennials are finding it hard to break into the housing market.
But, there's hope: the desire to own a home among this generation is at 87% — and 91% for 18 to 24-year-olds. So how do we get these buyers into the market? "More supply," said Yun, in the form of builders ramping up inventory at affordable price points as well as having apartments get converted into condominiums.
For more, check out the full talk below.