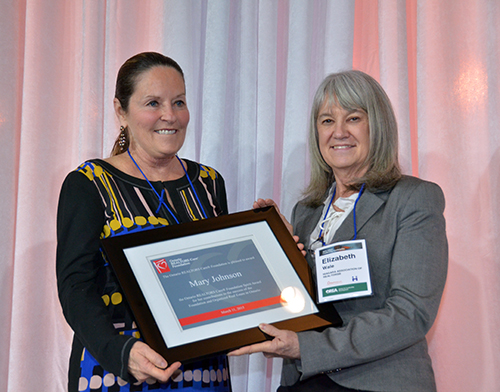 For Mary Johnson of Realty Executives Elite Ltd. in London Ontario, home is most definitely where the heart is.  Johnson has helped countless families find homes throughout her diverse, nearly 20-year career in real estate, and also mentors real estate professionals in her role as Owner of one of London, Ontario's top brokerages.  Her consideration for others, attention to detail, tenacity and hard work extends beyond the everyday operations of Realty Executives Elite Ltd. and the London real estate market, and deep into the community Johnson serves.
"Mary has, for many years, been quietly helping people in need, always operating under the radar and not bringing any attention to herself," said Carl Vandergoot, President of the London St. Thomas Association of REALTORS®.
At the Ontario Real Estate Association's 2015 Leadership Conference in Toronto,  Johnson was awarded the Ontario REALTORS Care Foundation Spirit Award, in honor of the charitable work she does through an organization she founded, Kindness Above Everything (KAE), which exists "to improve the lives of local impoverished families through financial support."  KAE connects with local agencies to find the hidden needs of families in the community, ranging from children to seniors.
For the full story, click here.
For more information about KAE, contact Mary Johnson at maryjohnson@realtyexecutives.com.