Each year, Realty Executives International recognizes the leading Executives across our network through our annual awards program. As we celebrate 50 years of real estate excellence in 2015, we're highlighting the achievements of some of our most successful agents (we call them Executives) sharing important keys to their incredible productivity in real estate, and honoring the many ways they make a difference in the lives of their clients.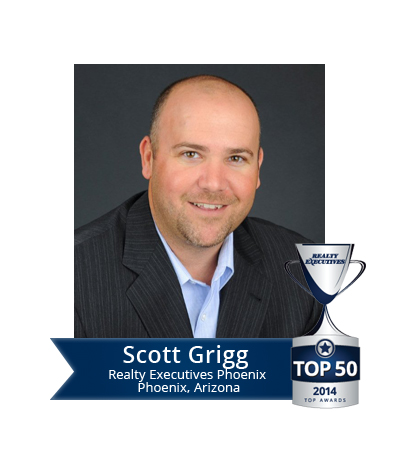 A native Phoenician, Executive Scott Grigg of Realty Executives Phoenix worked his way up to become a top ranked REALTOR® in the Phoenix metro area before forming the Grigg's Group in 2008, which consists of Grigg, Kevin Petruska, Nathan Niemira and Kimberly Johnson. In the years since, Grigg has built and maintained a reputation of providing exceptional service to a variety of clientele and cited referrals as key to his success: "I always believe in doing the best for our clients the first time and the referrals will come."
Areas served:
Paradise Valley, Scottsdale, Biltmore and Arcadia
What are your specialties and designations?
Listing agent, buyer's agent and builder representative
How many years have you been in the real estate industry?  How many years with Realty Executives?
I've been in the real estate industry 11 years; seven of those years have been with Realty Executives.
Did you have an "aha" moment in life – an experience that made it clear to you that real estate was the right career path for you?
When I realized that it is one of the few jobs that the more you work the more you can make. Your income level can go up as much as you want it to.
What led you to Realty Executives?
Realty Executives has the best opportunities as far as growth. I really liked that they have a satellite office program which fit well for my business.
Which factors most contributed to your success in 2014?
Work ethic
How has your brokerage supported your success in 2014?
Our new ownership has been great. They ask for our feedback and are coming up with ideas on how to grow the luxury brand.
How would you describe current market conditions in your area?  What are some of the most important trends?
New home construction is booming. I represent a lot of projects in town.
How are you guiding clients through the challenges in your area?
I'm making them aware of pricing and activity.
What differentiates you from your competition?
What differentiates The Grigg's Group is our referral business and our knowledge of building and the construction process.
What are your top 3 lead generation sources?
Referrals, referrals, referrals.
How do you manage the demands of working in real estate?
Work tends to take over. If you want to be successful in this industry, it's a 24/7 job.
As an award-winning real estate professional, you've obviously had to work hard to achieve success.  What keeps you coming back to your work in real estate, day after day and year after year?
I am addicted to putting deals together. It's rewarding to help people with the biggest investment of their lives.
To get in touch with The Grigg's Group, call 480-540-5479, email  azfineproperties@cox.net or visit www.ArizonaFineProperty.com.