Each year, Realty Executives International recognizes the leading Executives across our network through our annual awards program. As we celebrate 50 years of real estate excellence in 2015, we're highlighting the achievements of some of our most successful agents (we call them Executives) sharing important keys to their incredible productivity in real estate, and honoring the many ways they make a difference in the lives of their clients.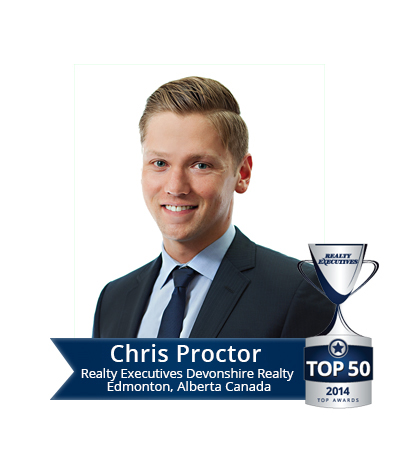 REALTOR® Chris Proctor's family has been in real estate since the early 1990s, spending more than 15 of those years at Realty Executives. So when it came time for him to join the family business, Realty Executives Devonshire Realty with Patti Proctor was a natural choice.
Areas served:
Edmonton, Alberta, Canada — all central Edmonton neighbourhoods
What are your specialties and designations?
Listing agent, buyer's agent, accredited buyer's representative®, and infill specialist
How many years have you been in the real estate industry? How many years with Realty Executives?
I've been in real estate for 6 years — all of them with Realty Executives.
Which factors most attributed to your success in 2014?
Work ethic, amazing clients, and an incredibly efficient and experienced team.
Did you have an "aha" moment in life – an experience that made it clear to you that real estate was the right career path for you?
My 'aha' moment in my career was when I realized that my real estate experiences and advice consistently help my clients achieve their goals.
As an award-winning real estate professional, you've obviously had to work hard to achieve success. What keeps you coming back to your work in real estate, day after day and year after year?
I love what I do! I find it very rewarding to help my clients with some of the biggest decisions of their lives.
How would you describe current market conditions in the Edmonton area?  What are some of the most important trends?
The market is holding strong. There are lots of buyers out shopping right now. With the increased levels of inventory, it is more important than ever for buyers and sellers to align themselves with a pro who understands the market trends and how it affects them.
How are you guiding clients through the challenges in your area?
Keeping them aware levels of inventory, price trends, and any fundamental shifts in the market.
What differentiates you from your competition?
What differentiates the Proctor Team from our competition is our experience and understanding of niche markets in the areas we serve.
What is the best compliment you've ever received from a client?
Their referrals!
How do you give back to the community you serve?  Are you involved in volunteer work, charitable organizations or other causes?
We donate to Second Chance Animal Rescue Society, Edmonton Humane Society, Children's Wish Foundation and Smile Train.
For more information on Chris Proctor and the Proctor team, call the office at (780) 438-2500 or contact Chris directly at (780) 709-0811. To connect online, email chris@proctorteam.com or visit proctorteam.com.