Each year, Realty Executives International recognizes the leading Executives across our network through our annual awards program. As we celebrate 50 years of real estate excellence in 2015, we're highlighting the achievements of some of our most successful agents, (we call them Executives) sharing important keys to their incredible productivity in real estate, honoring the ways they make a difference in the communities they serve and revealing what differentiates them from the competition.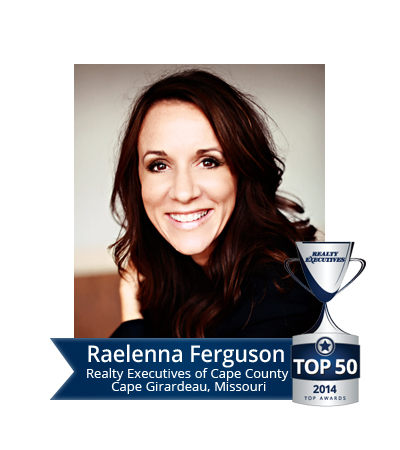 Broker Associate Raelenna Ferguson of Realty Executives of Cape County in Cape Girardeau, Missouri has been a licensed Realtor® for 11 years and we are thrilled she has spent 10 of those years with Realty Executives. She was recently honored for her 2014 productivity and ranks amongst our top 50 Executives based on commissions, out of thousands of Executives in hundreds of offices throughout our global network. In the following interview, Ferguson shares how being with the Realty Executives brand has impacted her business, how social media boosts her productivity, and the truly incredible ways she has given back to her community, exemplifying the motto, "to those that are given much, much is expected."
Areas and cities served:
Cape Girardeau County — specializing in Cape Girardeau and Jackson, Missouri
Which factors most attributed to your success in 2014?
My business has evolved over the years and I am now at a point where almost 100% of my new business is generated by referrals from past clients or acquaintances.
What led you to Realty Executives?
I love Realty Executives and I love my Broker/Owners, Bill and Susan Cole. They exhibit the same core values that my husband and I live by. One of the most important factors for me is to work for someone who has a high level of integrity and humility. It's also important for me to know my Broker has my back. And I feel like Bill and Susan Cole embody all those characteristics. There is no other brokerage I would work for.
How has your brokerage supported your success in 2014?
My company and co-workers are my biggest cheerleaders. When my Realty Executives colleagues businesses are thriving, I am happy and excited for them — and I feel that they have all done the same for me over the last year.
As an award-winning real estate professional, you've obviously had to work hard to achieve success. What keeps you coming back to your work in real estate, day after day and year after year?
I sort of live and breathe real estate. It is almost like an addiction to me. I always tell people, I love this job and if I didn't there would be no way I would be doing it. It can be a tough business with long hours, but for me I love the challenge of it. I love meeting new people and helping them achieve their goals and I love achieving the goals I have set for myself.
What differentiates you from your competition?
I consider myself a listing specialist. Listings are what I enjoy most and are an area of strength for me. The key to my success with listings is to be patient and thoughtful from the beginning. My goal isn't to just stick a sign in the yard during the first meeting. My goal is to sell the client's home with their best interests in mind, and that takes more than one appointment. I like to talk with and meet with my clients several times. I want to find out more about them, why they are selling and what their expectations are. Also, I spend a lot of time staging the house and preparing it for the market. I am a self-proclaimed perfectionist when it comes to my listings, from the exterior to the interior to the photos online. I work hard with my sellers to present their home in the best possible way we can.
What do you think keeps your repeat and referral customers coming back?
I think that my hard work and commitment speaks for itself. I try to treat every transaction equally, each person the same. Whether it's the most expensive deal I have going on or the least. Every client I have is important to me and I feel like that is portrayed. You know the old saying, "actions speak louder than words." I feel like that is one of the keys to my strong referral base.
Do you work from the office or from home?
I work primarily from the office.
What are your top lead generation sources?
Referrals would be my top, social media would be second.
With the rise of social media, do you see that impacting your business?
Absolutely, I have already seen an increase in activity and new clientele with the implementation of social media into my business. I have closed transactions that I can directly attribute to Facebook and my contacts there.
Is a life/work balance something you have achieved in your career? How do you manage the demands of working in real estate?
The hardest part of real estate for me is finding balance between work and personal life. My husband and I have 5 children and are very actively involved with volunteer work. One of my goals for 2015 is to create a team concept, allowing me to not only grow my business more, but more freedom to spend time with my family.
How do you give back to the community you serve and the real estate industry? Are you involved in volunteer work, charitable organizations or other causes?
I am involved with many organizations both locally and globally. My family and I have been traveling to Swaziland, Africa for over 6 years now working directly with orphans and vulnerable children with a United States based organization. I also raised funds to help build a children's home in Swaziland. We come back to visit every year. We recently traveled to Haiti with an organization that provides maternal healthcare to at-risk women.
Locally, we are licensed foster parents and adopted our fifth child through the Missouri foster care system. We are involved with and support a local Foster Care group home and the Southeast Missouri (SEMO) Food Bank BackPack program. We also volunteer and sponsor many other local events throughout the year.
In the beginning of 2014 I incorporated a "Giving Back" program into my business. One of my life's motto's has been "to those that are given much, much is expected," and this is a way for me to continue that. At every closing I donate $100 to 1 of 3 charities that my family supports, allowing my client to choose which one they would like the donation to go to.
To contact Executive Raelenna Ferguson, call 573-382-3100 or email her at rferguson@realtyexecutives.com.