Each year, Realty Executives International recognizes the leading Executives across our network through our annual awards program. As we celebrate 50 years of real estate excellence in 2015, we're highlighting the achievements of some of our most successful agents (we call them Executives) sharing important keys to their incredible productivity in real estate, and honoring the many ways they make a difference in the lives of their clients.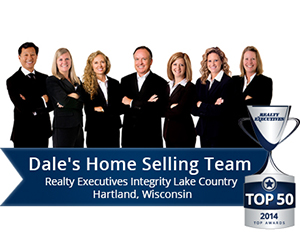 Dale's Home Selling Team of Realty Executives Integrity — Neil Miyashita, Nicole Brown, Vicky and Dale Schaechterle, Sarah Smart, Sharon Doyle, and Becky Wilde — offer first hand knowledge of the Lake Country, Wisconsin area where they live and serve clients and customers. We chatted with the team to talk about their decades of experience and how their agents stand out by providing three things better than the competition: real estate knowledge, earned trust and professional customer service.
Areas served:
Southeastern Wisconsin, specializing in the Lake Country area: Hartland, Delafield, Nashotah, Oconomowoc, Merton, Lisbon, Genesee, Dousman, Ottawa, Pewaukee, Chenequa, Okauchee, Wales, Sussex, Waukesha and surrounding communities.
Specialties and designations:
The members of Dale's Team work with buyers and sellers of residential and investment property, including single family homes, new construction, lake homes, vacant land, condominiums, duplexes and multi-families.
How has your brokerage supported your success in 2014?
The support of Realty Executives Integrity has been incredible and we believe their support greatly attributed to our success. The leadership team is always there to support us in our business by providing the systems and tools we use on a daily basis.  Our front desk staff is professional and offers high-quality service to our team and our clients and customers.
As award-winning real estate professionals, you've obviously had to work hard to achieve success. What keeps you coming back to your work in real estate, day after day and year after year?
We love leading people through the home buying and selling process. The end result should be a happy customer and we strive to make that happen each and every time.
What differentiates you from your competition? How are you guiding clients through the challenges in your area?
We guide them with high-quality customer service and knowledge. The more that our clients can understand what the challenges are that are affecting their transaction, the more confident they can feel that they are working with the best team. Not only do we know the areas we service well, our team members reside in the areas we service.
How would you describe current market conditions in your area? What are some of the most important trends?
Market inventory is low, which makes our market competitive.  Our buyers need our advice and expertise when it comes time to write an offer and negotiate terms.  They need to act fast.  Our sellers are finding that now is a great time to take advantage of this rising market.
What are your top 3 lead generation sources?
Our top three sources are referrals, postcards and social media.
Speaking of, how does social media continue to impact your business?
We see social media as being an area that will continue to be important for keeping in touch with people. We have been working on building these areas up and will continue to do so as the trends warrant.
Do you have a follow-up system for prospects and past clients?
We invite prospects and past clients to our customer appreciation event, we mail sport schedule magnets throughout the year, and we invite them to various other events so we're constantly staying in touch.  Next year we will be working together with local businesses to offer our clients discounts and coupons.
Is a life/work balance something you have achieved in your careers? How do you manage the demands of working in real estate?
This will always be something our team focuses on and keeps as a high priority.  We think that a healthy balance can be achieved and that it is important so that we can provide our best support both at home and in our real estate careers.
How do you give back to the community you serve? Are you involved in volunteer work, charitable organizations or other causes?
We are always looking for ways to support the community: sponsoring different teams, adopting a highway for clean up or supporting local drives such as the Condella's Coats for Kids and Hope Street Ministry.
To contact Dale's Home Selling Team at Realty Executives Integrity, call 262.369.8915, email email@DalesTeam.com or visit Dale's Team online.